Co-operative Bank wins overall 2017 KBA financial sustainability award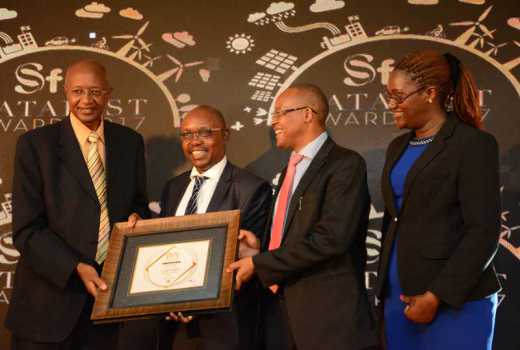 Co-Operative Bank has successfully seen off stiff competition from 13 other peer institutions in the banking sector to win the prestigious Kenya Bankers Association (KBA) Award 2017. Profoundly known as the Sustainable Finance Catalyst Award, the accolade is given to the banking institutions that have adhered to the financial strategic planning by factoring in the country's economic, financial, environmental as well as societal goals.
The winner of the KBA award is expected to have complied with adopting sustainable finance principles capable of bringing in balance between institution's financial goals and country's economic and environmental priorities.
Responding to the announcement of the award, the bank's Group Managing Director and CEO Dr Gideon Muriuki gave it an applause and reiterated the bank's enduring commitment to serving its customers and society at large for the long term.
"Sustainability is fully integrated in our business model that stands on the three pillars of Economic sustainability, Social sustainability and Environmental stewardship." Said Muriuki.
He extended his gratitude by attributing the success to the members of the Co-Operative movement arguing that they have remained focused on rolling out good plans, that have been futuristic and tandem with societal expectations.
"As a bank that is predominantly-owned by the 14 million-member Co-operative Movement, we are inclusive by design that has not only enabled us to deliver shared prosperity today, but also helped us build an awareness and prudence to avoid putting future generations in jeopardy." He added.
Kenya Commercial Bank came second as Equity bank came third closing the ranks for the top three best performers.
Judges assessed the performance of the candidates on various premises. The winner ought to have met the requirement of impacting positively on the county's Gross Domestic Product (GDP), supporting business, supporting the minority groups and creating jobs.
Co-Op Bank has been praised for playing crucial role in funding the construction of Two Rivers Mall, to the tune of Shs 8Billion which is believed to have had great impact on the economy. The organization has also been praised for creating jobs for women and youth and allocating Shs 5 Billion for the use of renewable energy under the programme of Green Finance.
The bank's fortunes towards winning the award may have been supporting by an endorsement by President Uhuru Kenyatta when attended the launch of Two Rivers Mall in February last year.
"The bank's ability to lend the developer such huge resources was a clear indicator that Kenya's financial sector is maturing." Said Kenyatta, as he praised the group for their role in economic empowerment.
The 2017 winners have dislodged KCB from first position after it won it in 2016. Equity Bank remains third position for two consecutive competitions.