Kenya's Auditor General Edward Ouko queries Sh43.8 billion rail levy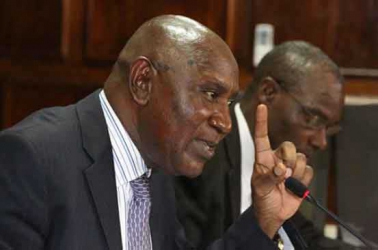 NAIROBI, KENYA: Auditor General Edward Ouko has raised queries over the National Treasury's failure to account for about Sh44 billion at the Railway Development Levy Fund (RDLF).
In his report, Mr Ouko questions why Treasury, under Cabinet Secretary Henry Rotich, did not submit financial statements for the fund even with bank statements indicating that the ministry received Sh19.5 billion and disbursed Sh6.6 billion for the period ending June 30, 2014.
The ministry has also not able to provide information about where it transferred Sh6.5 billion after it closed the RDLF bank account at Central Bank of Kenya.
Ouko further queries the transfer of Sh19.3 billion to the State Department of Transport, citing lack of minutes of a meeting by the RDLF Advisory Committee that approved the transfer.
There were no letters from the National Land Commission that requested the release of Sh4.95 billion to compensate land owners.
There was also no evidence to support the commission's decision to hand over the money to the Kenya Railways Corporation to disburse the monies to the beneficiaries.