Confusion on SGR train services schedule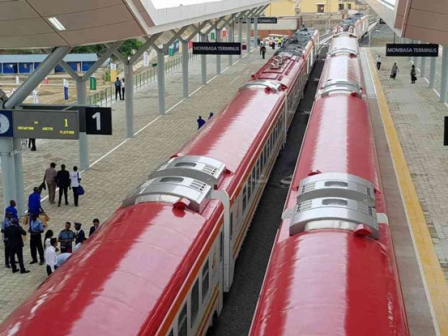 There was confusion on Wednesday after the Government suspended the Standard Gauge Railway services and other commuter rail services, only to lift the suspension shortly after.
The announcement came a day after the General Election whose results, which trickled in throughout Wednesday, were contested by the Opposition.
In its initial statement, Kenya Railways (KR) said the suspension that was to start today was aimed at safeguarding passengers and operations across the country.
It added that passengers who had already booked and paid for travel would be reimbursed their funds and also given priority once the suspension is lifted.
The firm sent a statement later saying that after a security meeting, it had decided to continue with the operations.
"Kenya Railways wishes to retract its earlier statement on the suspension of operations on the Madaraka Express. Following a security meeting and review, Kenya Railways will resume all services on both the Madaraka Express and the Nairobi commuter rail service," said KR Managing Director Atanas Maina.
He added: "Additional security measures have been taken to ensure the safety of both passengers and our operations."
Global war on smoking heats up
The US Food and Drug Administration's proposal to strip cigarettes of their addictive properties has opened a new front in the international campaign to reduce smoking, with health authorities in at least four other countries studying the idea.