Madaraka Express makes first stop to drop, pick passengers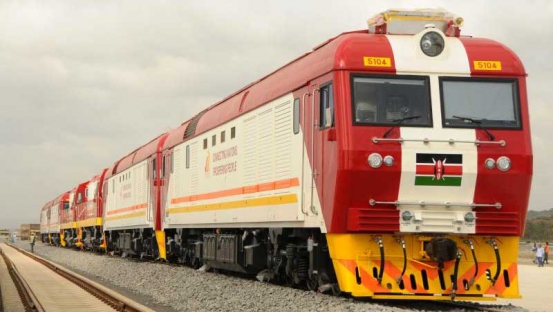 Excitement greeted the inaugural stopover of the first inter-county train on the Standard Gauge Railway (SGR) in Voi on Tuesday.
Kenya Railways has been operating direct trips between Mombasa and Nairobi since the SGR was commissioned last month.
The firm has now introduced additional stops in Voi and Mtito Andei.
First class fares from Mombasa to Voi are Sh880 while economy class costs Sh210.
First class passengers travelling from Mombasa to Mtito Andei will pay Sh1,520 while the cost for economy class is Sh370. Economy travel between Voi and Mtito Andei costs Sh160.
The train leaves Mombasa at 9am and arrives at the Voi intermediate station at 10.20 for a three-minute stop. The expected arrival time in Mtito Andei is 11.56am before it departs for Nairobi at 11.59am.
The introduction of the inter-county train was described by hotel owners in the county as "a game changer".
Exciting prospects
"We are excited at the prospects of having the Madaraka Express stopping in Voi and Mtito Andei, which are crucial pick up and drop off points for tourists sampling Kenya's wild," said Willie Mwadillo, chairman of the Kenya Association of Hotelkeepers and Caterers (Tsavo and Amboseli branch).
Mr Mwadillo, who is also the General Manager of Sarova Taita Hills and Salt Lick Lodges, said the stops would increase the number of local and international guests in the region.
"We have unmatched attractions to be proud of - ranging from the Taita Hills, the Tsavos (both West and East) and historical remnants of the 1st World War to the local hospitality," he said.
Mwadillo said tourist establishments in the area would begin to reap from conference tourism, adding that the completion of the Voi-Taveta road linking the county to Tanzania would further boost the region's economy.
The hospitality industry now wants the Kenya Tourism Board to focus on marketing new tourist attractions in the county, especially its historic link to the World War I.