Zambian Bank taps Kenyan innovation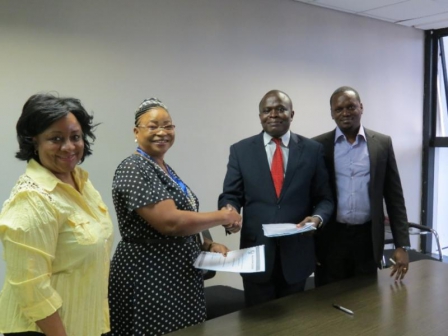 A Kenyan firm, NLS Banking Solutions, has won a contract to provide financial innovations to Zambia-based microfinance, M-Finance.
NLS Banking Solutions, a Nairobi based ICT company with a presence in 17 other African countries, specialises in provision of banking and financial innovations.
"The solutions we develop complement core banking while providing a platform for in-house development by the bank's IT department. This gives banks an opportunity to deploy new innovations such as utilities payment, mobile banking, Internet banking and other channels," explains NLS CEO Ms Alfelt Mumbo Abio-Gunda.
She made the remarks in Lusaka, last week, during the contract signing ceremony between NLS and M-Finance. She explained that the innovation, Tera Integration Platform (TIP), enables easy multi-channel integration and guarantees 99 per cent service availability to customers even in remote areas.
M-Finance CEO Titus Waithaka said the innovation was unique and provided a perfect solution to the lender's needs. M-Finance is a subsidiary of Madison Group.
"There are different innovators approaching us for engagements, but what NLS has is the ideal solution for our offline branches as well as other delivery channels including ATMs and mobile phones. We can now operate in the entire Zambian market and increase our profit margins while giving more value to our customers," explained Waithaka.
He said the innovation is built on a full Service Oriented Architecture (SOA) framework that allows seamless integration of existing channels in the market, with various adapters for future interfacing. "This will further expand accounts accessibility for MFinance customers across the country on various platforms," he said.
NLS Head of Policy and Projects Conseray Mabeya explained that the platform is already serving six leading commercial banks in Kenya.