Sugar Directorate orders millers to release sugar as it denies shortage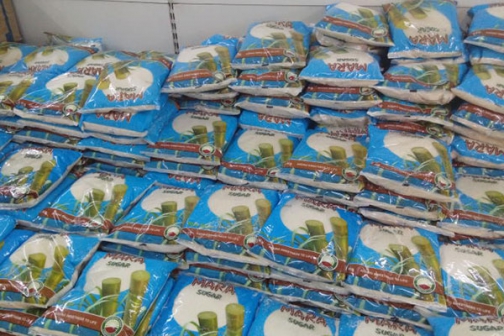 The Agriculture and Food Authority has directed sugar millers to employ more distributor channels to help address the alleged shortage of the commodity that has thrown the country into panic.
The Sugar Directorate, which is the sector's regulator, gave the directive as it responded to reports that there was an acute shortage.
Head of Sugar Directorate Solomon Odera said they had asked local millers to open up their traditional distribution networks in order to reach consumers faster.
"We realised that the distributors were taking too long to get the commodity closer to the consumers, so we have asked the millers to expand their networks and even sell directly to retailers to fix the apparent scarcity," he said in an interview with Weekend Business.
This move comes at a time when consumers are being forced to pay Sh50 more for a kilo of the commodity, with some retailers restricting buyers to one packet of two kilos.
Fears of a looming shortage saw Consumer Federation of Kenya accuse supermarkets of creating an artificial shortage to cause panic buying and drive up retail prices.
Nakumatt, which recorded the highest sugar price increments has since landed in trouble with the Government over alleged un-competitive market behaviour.
It was selling a kilo of sugar at Sh145, up from Sh125 two months ago. Its competitors such as Tuskys and Naivas are selling at Sh135 per kilo.
Downplaying the crisis, Mr Odera said the domestic market had a surplus of 36,000 tonnes for the month of September, and therefore could not be experiencing a shortage.
"We had a total of 566,000 tonnes of locally produced and imported sugar as at September against a demand of 530,000 tons," he said. As of last week the directorate had allowed importation of 15,000 tonnes, up from 9,000 tonnes last month. But the impact of this increment is yet to be felt on the retail market.
The agency's latest report indicates that the stocks had grown to 9,000 tonnes as of Monday, which is the minimum quantity required at any given time to contain a possible rise in prices.
Mr Odera, however, described the rise in prices in some retail outlets as normal and justifiable. He said the ex-parte increase in sugar prices at the factories to Sh5,800 per 50kg bag three weeks ago could have had an effect on the consumer prices. The prices have since reduced to Sh5,000.
He added that escalation in global prices of the commodity and local inflationary tendencies could have been at play in the rise of local prices by between Sh15 and 30.
The director said they were engaging other regulatory watchdogs to ensure the common sweetener remains in supply ahead of the General Election next year.
The Directorate asked the Competition Authority of Kenya to probe the drive behind Nakumatt's high prices after it accused the retailer of hoarding and rationing sugar to create an artificial shortage in order to increase prices.
With most of the public sugar millers crushing at barely half their capacities, local stocks of sugar have been declining in the last couple of months, forcing the Sugar Directorate to increase imports by 67 per cent to cover the fall in domestic production.
Kenya produces 630,000 tonnes of sugar a year, compared with an annual consumption of 900,000 tonnes. The deficit is met with imports from the Common Market for Eastern and Southern Africa (Comesa) and East African Community member states. The imports are currently being trucked from Uganda or shipped in from Madagascar, Malawi and Zambia.