Impeached governors cannot vie, says CJ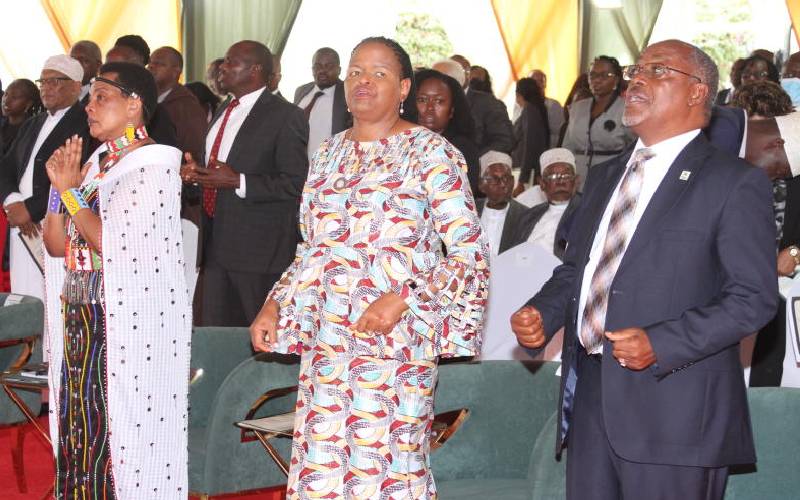 Chief Justice Martha Koome has told impeached governors and convicted politicians contesting elective positions that they are ineligible to hold public office unless the verdicts are overturned.
The CJ said filing an appeal to reverse a sentence or an impeachment did not mean the conviction was set aside.
During an interview on Spice FM yesterday, Justice Koome clarified the fate of impeached and convicted politicians.
The interviewers at Spice FM's Situation Room sought her opinion on whether a person convicted of a crime and had lodged an appeal, could be cleared to run for office.
"It's a legal conundrum. On one hand, we have a case where a particular MP who was found guilty by a competent court and sentenced then appealed is [allowed to run] yet when it comes to people who've been impeached, it doesn't seem to apply because if you're impeached you're permanently impeached even if you have a case in court you're still impeached," she said.
Justice Koome said an impeached leader remains impeached until a superior court lifts the impeachment. "And so is the sentencing. If you have been sentenced, you are actually sentenced until the sentence is set aside. The appeal does not take away the sentence," she said.
She said the issue came in with interpretation of the law.
"I think we interpret the law for our benefit. If I want to benefit, I will interpret it the way I want but the law remains the law," she said.
A court, on Thursday, issued orders stopping the electoral agency from processing the nomination of former Nairobi Governor Mike Sonko who was impeached, and is now running in Mombasa. The decision could deal a blow to Sonko's ambitions.
Koome, who spoke as she marks a year into her tenure as Chief Justice, said the courts could see some of its cash flow problems significantly reduce with operationalisation of the Judiciary Fund later this year.
It could address the Judiciary's fight for cash with the National Treasury from July 1, noting that regulations to govern the fund are now in place.
"I took them up and I am happy to report that come July 1, we are starting the Judiciary Fund. It is set, it has a number and has been tested and it has been loaded with the 2021/22 budget," said Koome.
She said once the money was in the fund, the Judiciary would not rely on IFMIS. "Sometimes, we run without money because it came in late and went back because we could not absorb it because of the tight period within which we have to do procurement, which is very strenuous and can't be done quickly," she said.
"The Judiciary Fund will help us manage our funds without stress," she said.
She said the Constitution establishes the Judiciary Fund so that the courts can be freed from dependency or waiting for funds.
She said she had encountered difficult hurdles in her tenure, "some I anticipated before I came into office because they were in existence."
They include financing, appointment of judges and state of infrastructure. She said the High Court needed 200 judges but only had 70, and the Court of Appeal was to have 30 judges but had only 20.
"It is only the Supreme Court that has a full complement [but it is] also a very low threshold of seven judges," noted Koome.
She said the seven judges presented a big challenge because the quorum for was five.
"So you can imagine you are always leaving two and these are maybe judges who sat in the matter at either the Court of Appeal or High Court. It is always a difficult balancing act to get quorum for the Supreme Court especially when the matter has come all the way from the High Court and the Court of Appeal," the CJ added.