Long queues as deadline looms for registration of mobile lines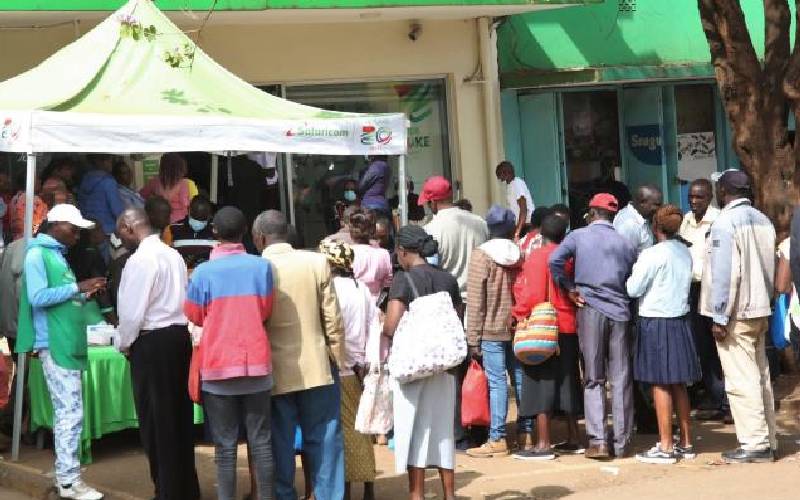 Thousands of Kenyans are braving long queues to register their mobile phone lines as the April 15 deadline draws near.
In the villages, Kenyans are forced to spend money to reach mobile provider service centres to have their lines registered.
And in cities, long lines marked the day-long process with subscribers trying to avoid the last minute rush.
Long queues are being witnessed outside shops of all mobile telephone operators, including Safaricom, Airtel and Telkom.
Zablon Etemesi spent a considerable amount of time waiting to register his line yesterday. He said about two weeks ago, he opened a shop in Kibera where he sells construction material.
"I hear they will deactivate mobile lines if you fail to register by April 15. Since l currently use my line for mobile payments, l don't want to be inconvenienced," he said.
Etemesi however says the registration process is a bit slow. "Since these people know many people are registering their lines, they ought to increase their staff to help this work move faster."
Elizabeth Murugi said she was asked to pay Sh50. "I cannot pay any money to register my line," she said.
She wondered why agents are charging subscribers to register their lines, when she hasn't heard any official announcement that people should pay.
At Telkom branch office within City Centre, the situation was the same. There were long queues as people waited to register their lines. There were long queues at Airtel shops too.
But even as the line registration process gets underway, the government through Gazette Notice No. 3832 appointed a task force to review the Kenya Information and Communication Act, 1998.
ICT Cabinet Secretary Joe Mucheru said part of the task force mandate will include Sim Card Regulations, Broadcasting Regulations, Access and Infrastructure Sharing Regulations and Interconnection Regulations.
He said the team shall undertake a comprehensive review of the Kenya Information and Communication Act, 1998, identify any gaps or inconsistencies in the Act and propose specific review requirements congruent with the Information, Communication and Technology Policy Guidelines, 2020.
The task force will also undertake stakeholder and public consultations on the regulations and perform any other activities required for the effective discharge of its mandate.
"The task force shall hold meetings, public forums or consultations as it shall deem necessary in such places and at such times as the task force shall consider necessary for the proper discharge of its mandate," said Mucheru.
Yesterday, it also emerged that some unscrupulous fraudsters had hijacked the process to swindle other people.
Kenya Human Rights Commission (KHRC) stated that it was unlawful to undertake fresh SIM card registration. "This is unlawful and serious threat to our privacy rights against intrusive data harvesting," the rights body posted on Twitter.
Lawyer Julie Soweto questioned the motive behind collection of new data. "Since 2010, one cannot acquire a line without registering it or their details. Communication Authority where did you take the data you have been collecting since 2010? What is the real aim of this SIM registration? Why now? she posed.
Former Law Society of Kenya boss Nelson Havi claimed that the process of SIM card registration is illegal. "SIM cards are registered upon purchase. I believe that is elementary. What is then the purpose of the other registration? I will take legal action against you (Safaricom) should my line be disconnected,'' Havi posted on Twitter.
Garissa Town MP Aden Duale threatened to sue in the event his line is disconnected. "I received your text to update my SIM card to avoid disconnection. I will take legal action against you should my line be disconnected," he said.