Motorists looting relief food on Thika Road arrested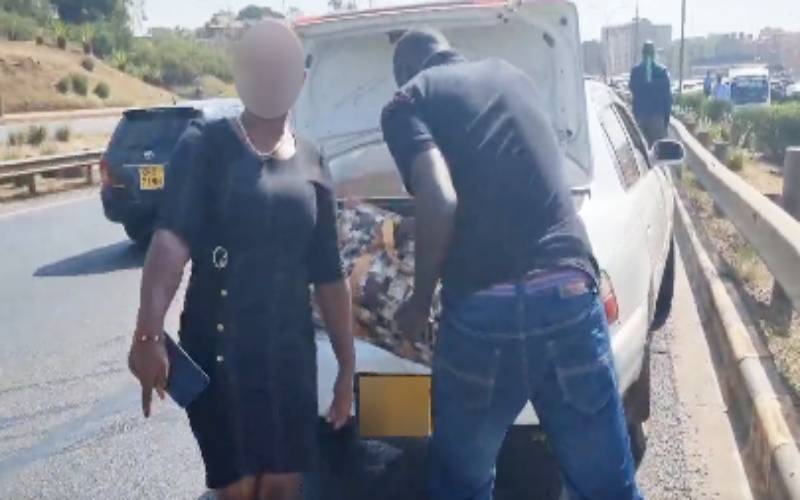 Police on Tuesday, March 8 arrested at least ten motorists who were caught on tape looting relief food from a lorry that had been involved in an accident on Thika Road.
Kasarani Sub-County Police Commander Peter Mwanzo told The Standard that the ten will be arraigned once investigations are concluded.
The accident occurred at Roysambu area in Kasarani Sub-County.
Mwanzo said the lorry was transporting several bags of rice and beans to Garissa County, which is experiencing a drought crisis.
"We managed to arrest only ten suspects. We'd have taken into custody more people, but the number of looters overwhelmed our officers," Mwanzo said.
Police said the lorry in transit lost control and rammed several vehicles on the road before overturning.
Several motorists, who were in transit, stopped their vehicles on the roads to loot the relief food as pedestrians also engaged in the theft captured on video.
Government spokesperson Cyrus Oguna described the act as "barbaric".
"How barbaric have we become? What happened to the values of peace, love and unity? We loot from victims of road accidents. We loot food meant for our brothers and sisters in drought-stricken areas. We loot fuel from overturned oil tankers. We loot from the dead lying on the road. What kind of a society have we become?" he said in a statement on Wednesday, March 9 on his official Twitter page.
According to the United Nations, approximately 2.9 million people in eastern parts of Kenya are in urgent need of food, and more than half a million children are acutely malnourished.
As a result of the drought, tens of thousands of farm animals have starved to death, pastures have withered and wells have dried up.
Three consecutive rainy seasons have been missing in eastern Kenya, occasioning the drought and hunger crises.
Government spokesperson Cyrus Oguna says the State has put in place measures to mitigate the situation.
"The Government has both long and short-term interventions to cushion communities from the drought situation. Interventions include: emergency relief food distribution, livestock off-take programme, cash transfers, hunger safety net, school feeding program and water tracking," he said.