Occupants of second chopper identified as probe continues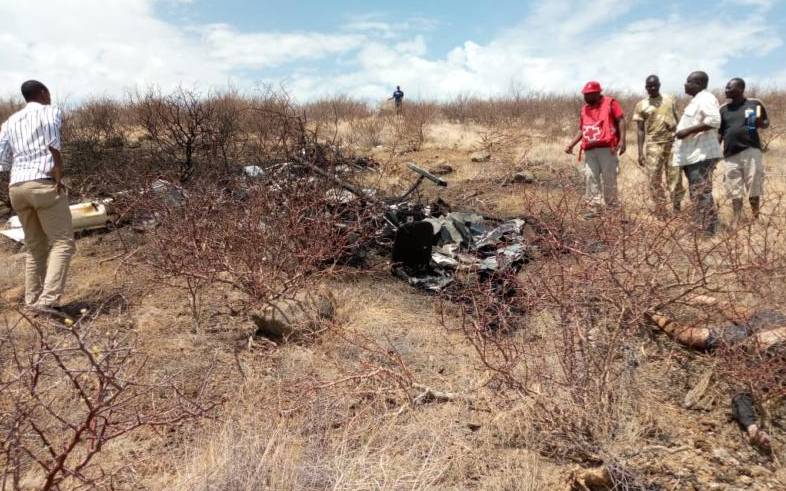 The four American tourists who perished in a plane crash in Turkana on Sunday night were accompanied by their girlfriends.
Officials aware of the incident said the four girlfriends were flying in a different Bell 505 registration number 5Y-TNF which made it to Lobolo Camp after it managed to clear from Lake Turkana Central Island.
They were described as tourists.
The US embassy facilitated their flight back to America on Monday after it emerged they were very traumatized.
"They left the country for the US after it was established they were badly traumatised. They were like girlfriends to the deceased men," said an official aware of the incident.
The remains of the four American and their Kenyan pilot were taken to the Lee Funeral Home where DNA analysis is expected to be conducted to identify them. US embassy officials were at Wilson Airport to receive the remains.
This is because the victims were badly burnt beyond recognistion after the Bell 505, registration number 5Y-KDL, a brand new aircraft, which was only six months old, burst into flames on crashing.
The Kenyan pilot was identified as Mario Magonga while the Americans were identified as Kyle John Forte, Stapper Brandon Howe, Burke Anders Asher and Baker David Mark.
The cause of the accident remains unknown as authorities promised to investigate it.
Also, tough questions have been raised on why the choppers were flying past 6pm, against the strict guidelines of the Kenya Civil Aviation Authority (KCAA) regulations.
It crashed at about 8.35 pm.
The ill-fated Bell 505 chopper with tail number 5Y-KDL was among five helicopters operating under KIDL Helicopters and based at Wilson Airport.
The affected chopper was shipped from Bell's facility in Mirabel, Canada to Africair Helicopter Support Limited (AHSL), a newly established Kenya Civil Aviation Authority Authorized Maintenance Organization where the aircraft was reassembled.
"After re-assembly, the Bell 505 was flown by KIDL CEO, Captain Marco Brighetti Wilson Airport in Nairobi to begin VIP transport operations," says a post on the company's website.
KCAA said the affected helicopter and another got with registration number 5Y-TNF airborne from Lake Turkana Central Island to Lobolo Camp at about 8.35 pm on Sunday.
"Soon after take-off, unfortunately one of the helicopters, a Bell 505 registration 5Y-KDL lost contact and crashed on the island," said KCAA's Capt. Gilbert Kibe.
A pilot of the other chopper that managed to fly off told officials the area was windy at that time. He added he saw something like a huge fire, which is believed to have been the plane crash.
On Monday night, Turkana Governor Josphat Nanok grieved with the families of those who perished in the crush alongside Captain Mario Magonga.
Captain Magonga, a former air force officer was cleared to fly a number of VIPs, including former United President Barack Obama, Dr Ruto among others.
"I wish to express my sincere condolences to families and friends of the five victims of the night's helicopter crash in Central Island, Lake Turkana," he said
He mourned the pilot and the four American tourists who were riding in the helicopter at the time of the unfortunate crash.
"It's the prayer of all residents of Turkana County that God grants their families comfort this difficult period." he said.
MPs allied to Deputy President William Ruto have called for thorough investigations on the cause of crash.