We saw three or four attackers, survivors of Gikomba blast say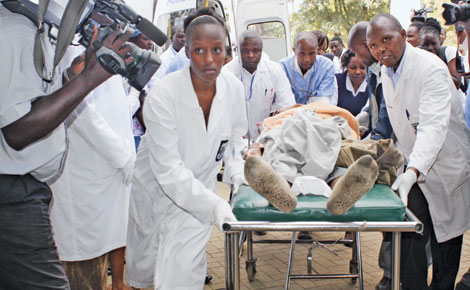 Victims of the explosions are rushed to the Kenyatta National Hospital.
By JAMES MBAKA and MOSES MICHIRA
Nairobi, Kenya: Several survivors told of their lucky escape after two powerful explosions ripped through the crowded Gikomba Market Friday.
They said the attackers – either three or four – appeared to have targeted the busy market to cause maximum damage.
Peter Ndegwa, who runs a business in the bazaar said he saw five people knocked to the ground.
"I was carrying luggage for a customer and I had just exited the scene," he said.
Other witnesses said one of the explosives may have been placed in the stall of an expectant woman who died in the blast. Her body was hurled beneath a car.
There were three attackers, witnesses said.
Occupants of a 14-seater matatu were among those injured in the attacks, with shrapnel severely damaging nearby vehicles.
Blood could be seen on the seats of the matatu, but some accounts suggest most passengers were able to escape through windows and the back door.
STREET BOYS
Three street boys noticed the three suspects hurriedly walking away from the scene of the first explosion before raising the alarm.
The attackers panicked and started running away, taking advantage of the melee caused by the first blast to hurl the second one about 10 metres from the road.
Traders and other business people around the scene were able to arrest the trio and wanted to lynch them, before the police arrived and dispersed the angry crowd. One suspect, however, slipped away.
John Kamua, who carts luggage at the busy shopping market said he saw four men, one of Asian extraction, approaching a matatu that was dropping passengers at a nearby stage.
"The men were in pairs and started running away after throwing something at the matatu. I then heard a deafening sound before I saw clothes being thrown into the air and a lot of dust billowing," Kamau said.
He added no sooner had he heard the explosion than he fell down after another one went off some 100 metres away.
Students discover over Sh3m in second-hand sofa
Three students found more than $40,000 (£23,900) in cash inside a second-hand sofa they had bought for $20 from a charity shop - and returned it to the elderly widow who stashed it there.