'The man could have just stayed with my wife and left me alone'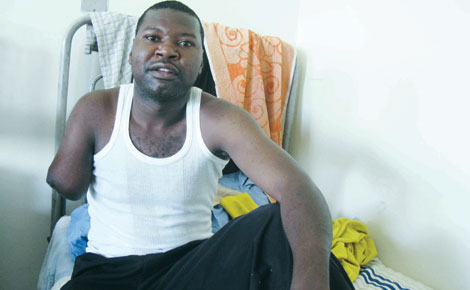 Zacharia Mwobe whose hand was amputated after he was shot. [PHOTOS: DAVID NJAAGA/ STANDARD]
By Abigael Sum
Nairobi, Kenya: Zacharia Mwobe claims he was shot by a Kenya Defence Forces soldier from Moi Airbase, Eastleigh, Nairobi, following a love triangle involving him, his wife and the soldier
The bullet tore through his hand forcing doctors to amputate it.
The incident changed Mwobe's life, as he used to push handcarts in the dusty streets of Huruma.
"I can no longer go back to the work I was used to. This has completely changed my life and I do not know what I will do next or where I will work," he says.
Mwobe recounts that on February 15th he was on his way home at around 10.30pm after watching a game between Chelsea and West Bromwich Albion when he suddenly felt a strange sensation on his right arm.
"I fell down as a result of the pain, when I touched my arm, I felt blood oozing out," he says.
When Mwobe looked up he saw his wife and the soldier.
"I was shot from the front. I saw him putting away his hand as if to hide something. I then gathered enough strength and stood up to ask for help from people who had gathered at the scene before I fell down again."
A Good Samaritan took him to Huruma Police Station and on arrival he met his wife and the soldier at the reception desk.
"Because I was in no condition to answer any questions and the sweater wrapped around my arm was soaking blood, the officer on duty requested that I be rushed to hospital and then we could follow up the case later on," he says.
He did not record a statement.
Mwobe was rushed to Huruma Nursing Home where he given first aid before being referred to Kenyatta National Hospital.
Doctors said they decided to amputate his hand to save his life. Mwobe was discharged from hospital after the bill of more than Sh200,000 was waived.
Seeking legal redress
Prior to the shooting, he says, he found out that his wife had an affair with the soldier.
"She waited until I went to my rural home with my child and my sister's child and packed her belongings to go live with that man," Mwobe tells The Standard on Saturday.
He suspects that the soldier shot him so as to keep his wife.
"I blame my wife and the KDF soldier for putting me in this predicament. I am not a thief and we had not quarrelled with him. He could have just stayed with her and left me alone," he says.
Mwobe says he fears for his life and wants action taken against the two.
"I fear for my life because I can bump into that guy anywhere, and am not sure what will happen to me," he said.
He is in the process of seeking legal redress and compensation for the loss he suffered owing to the fact that the incident caused him disability and he can't get back to his former job to provide for his seven-year-old child.
When contacted, Starehe Division OCPD Baraza Wabomba said he was not aware of the case but promised to investigate the matter.
KDF spokesperson Major Emmanuel Chirchir also said he would inquire about the matter.
How Kenya loses Sh90 billion through harmful tax treaties
Mauritius is among the countries helping companies operating in Kenya evade paying taxes, a lobby of civil societies says. The societies blame the Indian Ocean island State for the soaring taxation on the ordinary Kenyans through heavy consumption taxes such as value added tax (VAT), because big companies were not paying up.