Independent Electroral and Boundaries Commission ignored spy agency, signed contract with firm under probe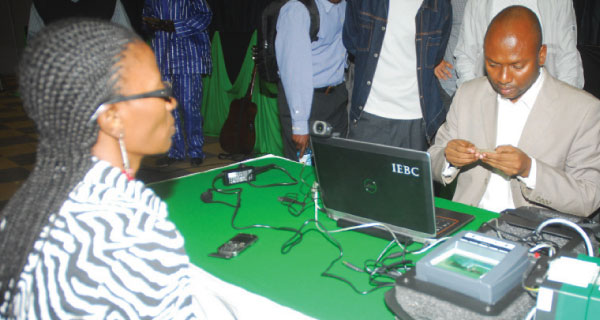 Independent electoral and boundaries commission
By MWANIKI MUNUHE
The Independent Electoral and Boundaries Commission (IEBC) ignored advice against single sourcing an over 1 billion shilling ballot-printing contract with a company under investigations for various malpractices.
The country's spy agency National Security Intelligence Service (NSIS) wrote to IEBC warning that Smith & Ouzman was under investigations by Serious Fraud Office in the UK, where the company is incorporated, for various malpractices.
Strangely, however, IEBC ignored this advice. Now, Kenya is among the four countries accused of having corruptly ditched out contracts worth millions of shillings to an international security printing company based in the UK, which specialises in such items as ballot papers, exam certificates and payment vouchers among others.
NSIS agents held a meeting with informers at Nairobi's Serena Hotel some time last January, where much of the details concerning the ongoing investigations against Smith & Ouzman was confirmed.
Procurement by public bodies should never be done "indiscriminately and in a clandestine manner," those were the words of Justice George Otunga at the beginning of the year, when he presided over a case challenging single sourcing of supply for ballot papers to the IEBC.
Single source
But IEBC singled source an over Sh1 billion contract from a company whose credibility had been put into question internationally and despite warning that Smith & Ouzman was under investigation by the Serious Fraud Office over alleged malpractices in other countries.
The Standard On Saturday further established that a similar meeting to inform IEBC about the ongoing investigations was held between three IEBC commissioners on one side and a group of informers on the other at the IEBC offices.
A group of security companies and a number of Kenyans had also written to Serious Fraud Office (SFO) complaining about the manner in which Smith & Ouzman was operating.
Serious Fraud Office is an independent government department responsible for investigating and prosecuting serious and complex fraud, bribery and corruption in the UK.
Kenya was mentioned alongside Mauritania, Ghana and Somaliland as being part of the countries that a UK based International Company, Smith and Ouzman, allegedly used bribery to secure diverse multi-million shillings contracts.
Senior IEBC officials, including the chief executive James Oswago, are already in court in relation to various alleged malpractices in the procurement of the Biometric Voter Registration kits.
The said company has been sued by Serious Fraud Office in the UK, with offences of corruptly agreeing to make payments totalling nearly half a million pounds, allegedly to influence the award of business contracts.
And although the said offences, according to Serious Fraud Office, took place between November 2006 and December 2010, the possibility that the country's reputation could once more be hurt in future runs high because IEBC single sourced ballot papers earlier this year from the same company in what was a highly a controversial undertaking.
We contacted Smith & Ouzman for a comment on the allegations but the company would neither confirm nor deny.
"We cannot comment on these allegations, which are entirely contrary to our principles of business conduct," read part of the response filed by Kathryn Ranger; senior account manager PGR Marketing Communications on behalf of Smith and Ouzman.
According to SFO, Smith & Ouzman allegedly agreed to corruptly make some payments to undisclosed person in Kenya ostensibly to influence award of contracts to the company.
The Standard On Saturday was not in a position to immediately establish who was receiving money on the Kenyan case ostensibly to give Smith & Ouzman an unfair advantage among competitors.
In our communication, SFO indicated that it could not divulge the finer details purely because of what the department described as 'operational reasons.'
But we established some of the cases in which Kenya's electoral body could have treated and continues to treat Smith & Ouzman Limited preferentially in printing of ballot papers for the April 2013 polls and beyond.
For instance, in their contract for the printing of ballot papers for the last general election, IEBC agreed to pay Smith & Ouzman funds for the purchase of extra ballot papers in case of a run-off.
The ballot papers having already been purchased would then be printed after determination of who would qualify to go for the run-off should there be one.
But as fate would have it, the run-off did not happen after IEBC declared that President Uhuru's Jubilee coalition had carried the day.
This effectively meant that IEBC had already lost substantial amount of money to the upfront payment for the ballot paper in anticipation of a run-off. But months later, IEBC advertised a tender for supply of ballot papers for the ongoing by-elections. Smith & Ouzman participated in the tender, but already had an upper hand for one reason.
Other companies that participated in the Tender included Tall Security Print Limited, Umoja Netcom Limited, Paper Plus Trading Company Limited, Kalamazoo, Aerovote Security Print Limited and Soloh Worldwide Inter-Enterprises Limited.
The company was still holding the unprinted ballot paper payment IEBC had paid for already. This meant that technically even before the tender was advertised, Smith & Ouzman had an overriding chance of winning.
The Standard On Saturday is in possession of the minutes of the tender opening meeting titled 'Minutes of Tender opening tender No IEBC 01/2013-2014 for supply and delivery of ballot papers for elections meeting held on 15th July 2013 starting at 11.00AM at room 526 Anniversary Towers 5th floor.'
The UK bribery and corruption Act 2010, which created SFO was triggered by the by single sourcing procurement practices in the UK military to ensure UK companies do not obtain contracts through bribery and corruption.
This law operates in a different way in many countries across the world because the burden of proof is not on the prosecution or complainant but on the entity being sued.
The company specialises in security printing and actually printed ballot papers for Independent Elections and Boundaries Commission for the 2013 General Election.
Smith & Ouzman Limited, two of its directors, an employee and one agent were charged by the Serious Fraud Office with offences of corruptly agreeing to make payments totaling nearly half a million pounds, contrary to section 1 Prevention of Corruption Act 1906.
The individuals, all British nationals include Chris Smith (age 70), of East Sussex, the former Chairman of Smith and Ouzman Limited, Nick Smith (age 42), of East Sussex, the Sales and Marketing Director of Smith and Ouzman Limited, Tim Forrester (age 45), of East Sussex, the International Sales Manager for Smith and Ouzman Limited and Abdirahman Omar (age 37), of London, an agent for Smith and Ouzman Limited The first hearing of the case took place at Westminster Magistrates' Court last week and the accused are expected to appear on November 6 2013 at Southwark Crown Court.
The matter involving Smith & Ouzman was accepted by the SFO for investigation in October 2010 and written charges were issued in August.
Qatar Airways joins oneworld
Qatar Airways becomes part of oneworld at midnight Doha time Friday, adding one of the world's fastest growing and most highly rated airlines to the world's fastest growing and most highly rated global airline alliance.