Millions of people around the world will this Sunday observe Valentine's Day. Few discern its pagan origins, neither do they care. What matters is that the day of love will leave many a pocket dry as they ask; "what has love got to do with it?"
While Kenyans are waking up to the commercialisation of such days, local hotels have come up with exclusive deals meant to create a buzz within the industry. Interestingly, this seems to be the year when a number of establishments have thrown in choppers as a means of spicing up the romance.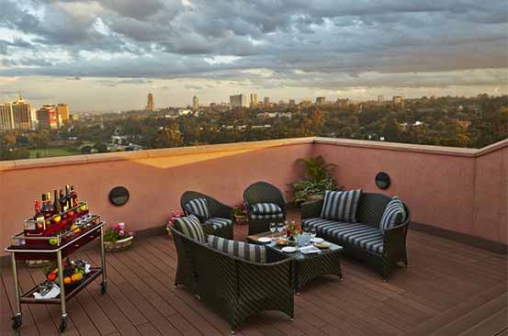 We sample some of these deals and what they might cost should you decide to burn some cash over the weekend.
Villa Rosa Kempinski, Nairobi
Do you have Sh5.4 million to spare this weekend? Then Villa Rosa Kempinski has a Valentine's Day package whose aim is to take you through a 50-hour romantic journey built around an ultimate luxury experience.
Read More
The journey begins on Saturday when the hotel picks the couple from their resident with a convoy of limousines, accompanied by a butler, a lady in red and personal security.
The following day, the couple will start with breakfast by the terrace of their Presidential Suite, and thereafter, hop into a chopper for a sky excursion of Nairobi city before being flown to Masai Mara for another sky safari.
A bubble bath, a game drive and an exclusive sundowner cocktail in the middle of the Mara await the couple at Olare Mara Kempinski. the couple then takes their chopper back to the city to culminate the intimate experience, plus another sundowner cocktail.
The hotel's chef, Ciaran Gantly has come up with a new menu for this couple that we are told will never be replicated again in the hotel. The six course menu has taken the chef six weeks to craft and source for ingredients, some from Italy and the Middle East region. This will be washed down with a bottle of Penfolds Grange, one of the finest wines in the world.
Italian diamonds for the lady and cuff links for the gentleman, valued at Sh1.4 million, will be the icing on the cake.
Acacia Premier, Kisumu
The lakeside town's latest sensation, Acacia Premier seeks to give Kempinski a run for its money. For half a million per couple, Acacia too will offer a chopper ride over Lake Victoria and lunch in one of the nearby islands Island before enjoying a romantic yatch ride.
The two will also enjoy the services of a private butler, a chef and a personal guitarist. The Kisumu deal is not surprising considering that the hotel was developed by the Popat family's Simba Corporation, the group behind Villa Rosa Kempinski.
Mara Explorer, Masai Mara
Staying with the 'chopper business', Heritage Hotel's Mara Explorer will also take romance to the air, literally. Two couples (each coughing up Sh445,870) will fly from Wilson Airport on Sunday with a specially chartered AirKenya helicopter to Masai Mara. They will land at a special bush site for a Champagne breakfast hosted by Mara Explorer.
A private and personal waiter will join them as they enjoy a game drive in the world renowned animal sanctuary before enjoying a private barbecue bush lunch on top of Look Out Hill.
A send-off cocktail accompanied by a gift package made by the local Maasai women and presented by a Maasai chief will wrap the one day trip before returning to the city.
Giraffe Ark Game Lodge, Nyeri
Sh1.2 million at the Giraffe Ark Game Lodge this weekend will get you the presidential suite with a spa, a personal chef and waiter. They will station two horses outside your room for your exclusive use, this in addition to a limousine to get you there and a vehicle for a game drive.
The chef and waiter are there for a good reason, with a seven-course dinner on the cards. To cap it all, you will get seven nights a year for the next 99 years.