Why Harambee Starlets can't party just yet despite victory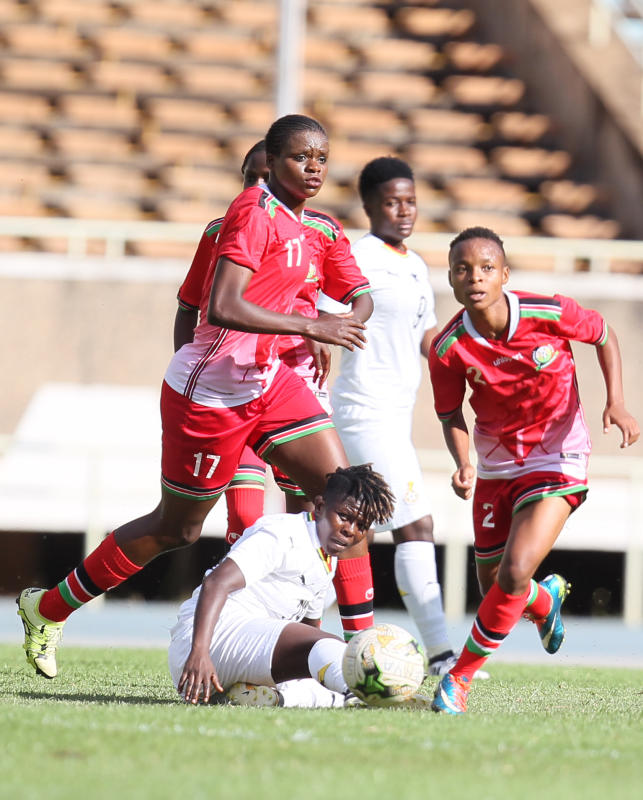 Even though financially-stricken Harambee Starlets have qualified for the penultimate round of the 2020 Tokyo Olympics Qualifiers, it is not yet celebration time for the women's football team.
Starlets overcame the odds to stun pre-match favourites Ghana's Black Queens 1-0 on aggregate courtesy of substitute Gentrix Shikangwa's extra-time penalty in Tuesday's return leg at Kasarani Stadium to book a date with Zambia's Shepolopolo in the two-legged fourth-round tie slated for November 4-12.
Zambia beat Botswana 3-0 on aggregate to sail through.
Unlike their men's counterparts (Harambee Stars), who received a whooping Sh244million for preparation and bonuses from the government after qualifying for the Africa Cup of Nations finals in Egypt, Starlets have been left on their own in the qualification process.
Starlets have not received a single cent from the Ministry of Sports in their last two Olympic qualifying rounds and friendly against Ethiopia. The players have also not been paid their allowances dating back to October last year while preparing for the Africa Women Cup of Nations (Awcon).
As they continue struggling financially, Starlets face another Herculean task against Zambia next month whose winner on aggregate will clash with either Cameroon or Cote d'Ivoire in the final round.
The aggregate winner in the fifth round will automatically qualify to next year's global showpiece in Japan, while the loser will meet up with Chile in the inter-confederation playoffs.
Despite the challenges, diminutive Thika Queens forward Mwanalima Adam, who was part of the historic Starlets side that made her debut at the 2016 AWCON finals in Cameroon, says the team can start dreaming of Olympics.
"It might be a bit early, but with the belief and determination in the team we can start dreaming of Tokyo. Nobody had given us a chance, but we are now just two steps away from making it to the Olympics," Adam told Standard Sports.
"We've had a few challenges but that will not stop us from achieving our dream. Just like the 2016 team, these group of players want to write their own history by representing the country in Japan. We are aware of the task lying ahead of us starting with the Zambia game, but as a team we are more than ready to make Kenyans proud."
But while his troops are playing their hearts out on the pitch, head coach David Ouma feels they have been discriminated by the government.
"We are happy on the development and progress of the team, but we still have a lot of work to do. Let everyone do his or her job to enable this team achieve its dream. Despite our impressive performance, financially we are in a very difficult situation. There is no motivation at all from the government,'' said Ouma.
"For your information, these girls have not received their allowances for over a year now. I think they should be treated the same like their men counterparts. All the same, we are still determined and focused to make it to Tokyo."
Starlets captain Dorcas Shikobe added: "We have fought for this team since 2015 but the government still owes us money since then. We ask them to give us the same support that the men team is getting."