Of Fort Smith and history that Kenyans chose to forget
FINANCIAL STANDARD
By XN Iraki | May 7th 2021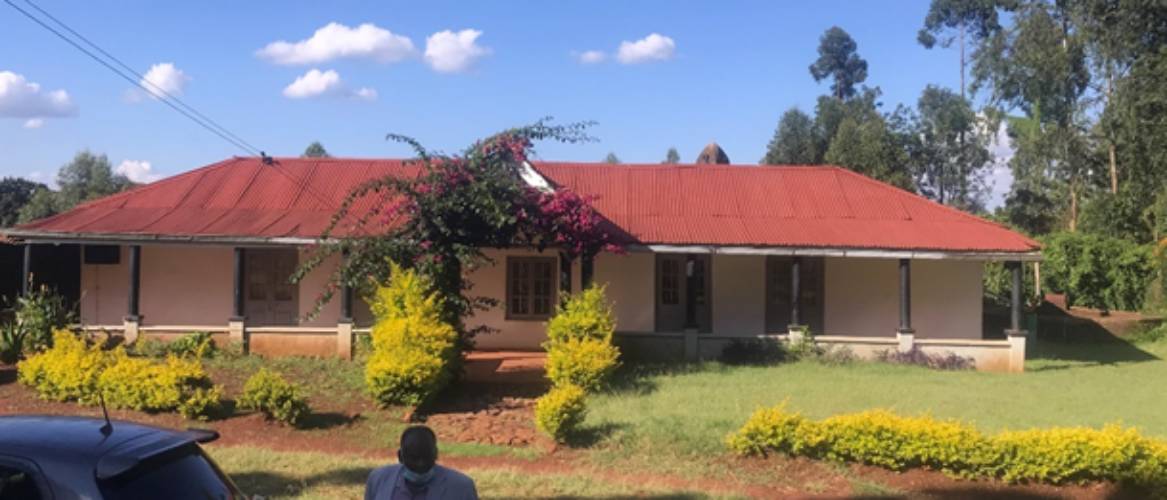 "This was the court house," Titus Njonjo said as he showed me the small hut adjoining the big house, Fort Smith. Njonjo is one of Kenya's pioneer indigenous golfers and once managed the University of Nairobi farm in Upper Kabete.
The house does not look big enough to be called a fort like Fort Jesus. It looks more modern than its historical predecessors. The cast iron columns, wooden window frames and grills betray the age of the old fort, about 130 years.
It has about 12 rooms, said a lady resident I found there on two visits. A borehole between the small hut (court house ) and the main house still has water. Is that where Captain Lugard and others got their water from?
The house was constructed using bricks, as was the tradition those days. Invictus is the name inscribed on the bricks that build the small wall enclosing the long verandah. Where was that company located? Is it still there? We learnt about Chief Waiyaki wa Hinga and his encounter with mzungu around 1890. But few know it happened at the fort and it is still around and intact 15 kms from the city centre. Where did Captain Lugard learn about blood brothers, yet his father was a reverend?
Strangely, there is no signboard to help one locate this fort. You have to look for it yourself. Njonjo explained to me to origin of the name Kabete. A mzungu lady swimming nearby lost her wedding ring. And locals could not understand all the fuss about a small ring, kabete. Can we look for it using a metal detector today?
Not far away from Fort Smith is another historical building, the original Vetlab Golf Course club house, which was also built with bricks. Old iron sheets and tall trees nearby betray the age. You can see the old tennis courts, swimming pool, the club house and nyama choma place. Walking around you feel the spell of time and the feeling that Kenya 's agriculture sector once had its golden age.
Historical edifices
How can such historical edifices be forgotten?
It seems Kenya is obsessed with the present than the past despite their interconnectedness. Without a clear understanding of where we came from, we can't chart our future paths. Could we have come up with a more robust Constitution if we knew more about our history instead of copying Americans? Could our economy be better off if we analysed our economy before uhuru? Did we understand the unintended consequences of subdividing mzungu farms?
Did we think of how to balance our traditions with modernism? We have the residue of the traditional systems with chiefs but also elected leaders. Think of hero recognition system or even marriage system. Why were there no single parents? We can go on.
History is embedded in landmarks. We have no time for that. Machakos has not declared itself as Kenya's first capital. Think of historical capital from that. Every county has something to show case but we rarely see the inspirational value of that.
Even Nyeri does not welcome you to the "Home of Baden Powel." We know more about the Statue of Liberty or Eiffel Tower than Fort Smith. Yet history is unique, can't be copied and is invariant, it is only it's consumers who change. It's a goldmine; ask Egyptians or Italians.
Back to Fort Smith. It is a lasting symbol of our resistance to colonialism and self-confidence. We can get national inspiration as we carry out national projects from BBI to Vision 2030. Projects like Fort Smith could inspire the next generation as they pursue their goals.
The building has lasted for about 130 years. We have buildings collapsing before they are complete.
The fort's longevity through WWI, WWII and other upheavals is the symbol of national resilience but also neglect. What has the National Museums of Kenya or Kiambu county government done about this fort for over 100 years. How many school children know about it ? Any thesis written about ?
More poignant about Fort Smith is a nearby cemetery with only two tombstones remaining. Locals told me they were many, about 10 but the land owners smashed them. The two graves date back to 1898, that far into the mists of history. The two men buried there were both aged 34.
One was Army veterinarian Captain Alfred Joseph Haslam, "killed by the Wakikuyu on July 23rd 1898," reads the tombstone. It is rumoured that Kikuyus killed him after observing him dissecting dead cattle and suspecting him of practicing witchcraft. The other was William Alfred Harrison who died on 12 October 1898 from wounds inflicted by a lioness.
The plaques were erected by their friends on the staff of the Uganda Railway. Harrison was the district railway engineer and probably surveying the route as the rail reached Nairobi in 1900.
There was a third grave I could not locate, of Captain Robert Henry Nelson who had died in 1892 aged 40. The cause of death is not indicated. He was the superintendent of Kikuyu district, online sources indicate.
The two tombstones were made by a London-based company and still look new after 123 years! I wondered if the descendants of these men are aware that their ancestors are resting in peace at Kabete.
Unmarked cemetery
After walking around Fort Smith and the unmarked cemetery, which is someone's shamba, I went home with my head spinning. How can we neglect such historic jewels? How many kids and teachers who read about Fort Smith in textbooks know it is still there? Yet I see the same children posing against a dinosaur at the national museums of Kenya.
As we build superhighways and expressways, we must also build our history, it's our soul. BBI alludes to rewriting our history, hope objectively. Our neighbour Uganda has gone further and revived the kingdoms. South Africa and Nigeria recognise traditional leaders. Our former colonial master, Britain still keeps a monarchy and so does Japan.
Monarchies are encapsulations of history. Tell me of any great nation without deep historical anchors. The rise of China has a lot to do with her sense of history. I felt that on a visit to the Great Wall in 2018.
Finally, food for thought: I have been told that as you hit your golf ball on hole number 11 at Limuru Golf Club you are standing on a mass grave. That is where victims of the Lari massacre are buried. Fact or fiction?