Big boost for local tourism as Kenyans travel more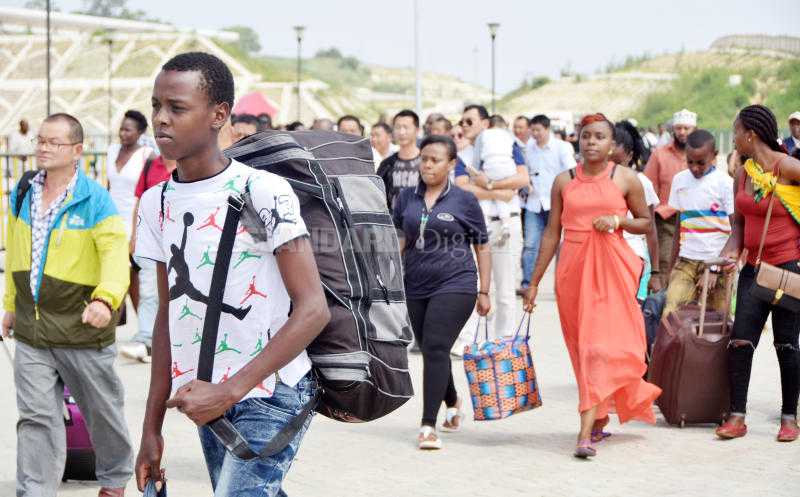 July last year saw social media awash with pictures of Bonfire Adventures founder Simon Kabu throwing an extravagant bash for his wife.
While many Kenyans wondered what kind of man would go to such extreme to make his wife happy, for others, it was about the man's source of wealth.
For Kabu, a man who built the local tour and travel company with his wife from scratch, the ability to pamper his wife lavishly was the universe's reward for years of hard work put into Bonfire Adventures and a show of the promise of the Kenyan tourism market finally blossoming
"Yes, the local tourism industry is growing," admits Esther Njoroge, founder and chief executive of local tour company Bountiful Safaris.
In 2009, Bountiful Safaris was just a small start-up, and now the company has grown into a reputable and successful brand.
Ms Njoroge attributes the fast growth of her company, in part, to the increased tendency of Kenyans to travel.
Over the last few years, local travel agencies alongside state stakeholders such as the Kenya Tourism Board (KTB) and the Ministry of Tourism have been involved in a spirited marketing effort to get Kenyans to explore and experience the country more. This has mainly been effected through campaigns such as Magical Kenya, Tembea Kenya and Okoa Holiday, the latter of which is a package by Bonfire Adventures that allows one to go on vacation and pay later.
"We have developed a county engagement framework that entails packaging and promoting products within the counties, as well as building the capacity for tourism within the counties," KTB indicated in a statement.
Tourism Cabinet Secretary Najib Balala says Kenya plans to double tourism earnings from tourism Sh95 billion in 2011 to Sh200 billion.
The industry received 1.4 million tourists and earned Sh120 billion last year, according to Kenya Tourism Board.
Mr Balala said the ministry expected the industry to grow by 16 per cent this year, which would bring the number of visitors to about 1.67 million. "This year (2018) is going to be the best year for the industry," he said.
International tourists
But for decades, Kenya has maintained its popularity as a favourite spot for global tourists who visit the country for wildlife safaris and beach vacations.
Kenyans have, however, traditionally been reluctant to travel for leisure, even during holiday seasons such as Easter and Christmas.
If they do travel, they typically go to rural homes and spend time with their families.
In the last few years, however, more Kenyans are loosening up and finding more creative ways to spend their free time.
In early February, CS Najib Balala acknowledged the steady growth of the local tourism sector. He said the total number of hotel bed nights occupied by Kenyans increased by 500,000 to reach four million in 2017, signalling an increase of 3.5 per cent from the prior year.
This rise from 2.7 million bed nights occupied by local travellers in 2013. The trend towards travelling more is motivated by various factors apart from marketing by stakeholders.
Other factors fuelling the trend include a growing middle class with more disposable income who can afford leisure travel, a factor that is paying off handsomely for local and regional travel agencies and tour companies. A 2015 report by the Pew Research Centre revealed that Kenya's middle class stands at five per cent, with the middle and upper-income segments cumulatively making up less than two per cent of the population.
However, the African Development Bank says Kenya's middle class is currently at 44 per cent of the population, inclusive of the floating middle class, who, although they fall in the middle class category, are likely to fall back into poverty in case of economic woes.
The middle class, with more disposable income, are inclined towards consumer goods and leisure travels.
The trend towards recreational travel is also motivated by increased internet usage and a growing influence by Western cultures, especially among millennials, who are beginning to form a core market segment for tour and travel companies.
A 2015 research into the travel habits of Kenyans by travel firm Saffir Africa revealed that millennials are key drivers of domestic tourism, given their inclination towards local travel and their large population.
The report further indicates that millennials are interested mainly inconvenient and cost-efficient offers.
The study showed that most holiday travellers are influenced by digital platforms, mainly social media, search engines, online agents and blogs.
This has seen more travel firms shift their marketing efforts online, through campaigns geared at creating awareness on recreational travel and influencing online users to explore different destinations in the country.
Jumia Travel, Bonfire Adventures and Bountiful Safaris are among the firms leveraging on the online space, targeting social media users through digital campaigns and building their brand awareness through initiatives such as offering free trips to outstanding Kenyans.
They also use influencer and celebrity marketing to up the visibility of their brands. Jumia Travel, which launched its first Kenyan holiday packages in September 2016 is recording success.
"Mobile bookings are on an upward trajectory, standing at 44 per cent in the company's third quarter of 2017 report, as compared to 41 per cent in the second quarter of the same year," noted Jumia Kenya Manager Cyrus Onyiengo.
Aside from the tour and travel companies, KTB has increased its funding to include innovative domestic marketing initiatives such as digital campaigns.
The board says this has been paying off, leading to increased brand visibility locally as well as a rise in tourism revenue.
The trend towards travelling for leisure has been aided by the availability of affordable travel packages, cheaper and convenient transport options such as the Madaraka Express, Fly 540 and Jambo Jet budget airlines.
Most of the travellers, according to Saffir Africa, use tourism service vehicles, which are economical as they allow group travellers to cut costs. Bonfire Adventures CEO Kabu, for instance, says the company chartered close to 40 buses to transport domestic tourists to various parts of the country on December 24th alone.
Affordable packages have enabled more Kenyans to travel, not just within the country but beyond. Kabu says his company chartered two planes for travellers holidaying in Dubai during the December holiday season, whereas those vacationing at the Coast mostly used the SGR - attributing the growth of the firm to its unique offers and affordable deals. Bountiful Safaris also offers low-cost holiday packages for Sh6,000.
A survey by Jumia Travel revealed that the Coast is the most popular destination for domestic tourists, accounting for 30 per cent of total hotel nights occupied by domestic travellers, followed by Nairobi at 27 per cent and Naivasha and Nakuru, both at 17 per cent.
In 2015, the occupancy levels of coastal hotels surpassed 90 per cent, largely due to a rise in domestic tourism.
Travel firms have also ventured into providing products for clients who prefer city stays, offering the chance to stay at top-end hotels at cheaper costs.
The 2016 Economic Survey by the Kenya Bureau of Standards showed that Kenyans accounted for a huge number of total hotel nights in the country, reaching 2.95 million in 2014, from 2.6 million nights three years earlier.
During peak seasons, hotels in some parts of the country are fully booked, and travel companies try to get people to book early. Vacationers are increasingly utilising online booking site Airbnb to stay at villas and apartments with the option to prepare one's own meals.
In 2016 alone, domestic Kenyan travellers using Airbnb doubled. More Kenyans are also opting to travel during off-peak seasons when the rates are lower and recreational facilities less crowded.
With increased domestic travel spending in 2015, the KTB expected domestic tourists to increase by three per cent that year. Instead, the sector surpassed the expectations, exhibiting growth of 14.6 per cent.