Hope for clean water as Sh60b Thwake dam contract signed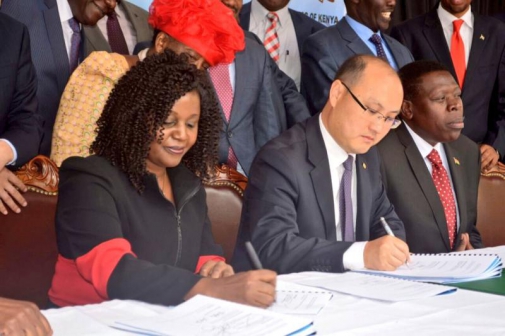 Residents of Kitui and Makueni counties will soon access clean water after the government signed a contract to construct the Thwake Multi-Purpose Dam.
The Sh60 billion contract was signed by the State Directorate of Irrigation Principal Secretary Zeinab Hussein, witnessed by the Cabinet Secretary of Water and Irrigation Eugene Wamalwa and the Kitui Governor Charity Ngilu.
The contract between the Government and China Gezhouba Group Company ensures that construction of the dam located in Kitui County starts immediately.
"Thwake is our single largest project and we expect in about 90 days, the contractor will have mobilised personnel and resource to start construction," Mr Wamalwa said last week. Thwake Dam will provide clean water to over 1.3 million people.
The reservoir will create a micro-climate that will improve the areas' biodiversity in terms of flora and fauna boosting tourism and agricultural production as well as provide favourable conditions for fish farming
The Government has so far paid over Sh2.5 billion to relocate people from the site to pave way for the construction of the dam.
The dam will store over 150,000 cubic meters of water, some which will be used to irrigate 100,000 acres of land in both Kitui and Makueni Counties to turn the area into an agricultural farmland that will produce a variety of food.reas
The area is not endowed with surface water resources, except the perennial Athi River which drains vast areas of the basin before into the Indian Ocean near Malindi Town.
The river is fed by several other tributaries, which are seasonal in nature but which carry huge volumes of water during the rainy seasons.
One of these rivers is the Thwake River, which joins the main Athi River near Kathukuni and Nduyu Hills in the Makueni and Kitui counties respectively.
The dam is meant to increase water storage for rural and urban domestic, livestock and hydropower with focus on the semi-arid counties of Kitui and Makueni. Over 1,800 youth will be directly employed while another 6,000 indirectly through the project.
It is estimated that 30,000 local suppliers and sub-contractors will benefit directly from the project.
The dam will be the source of water for the proposed Konza ICT City.
Areas targeted as main beneficiaries of water are Kathonzweni, Wote, Kibwezi and the neighbouring areas in Makueni County and the Yatta Plateau in Kitui County.
The design of the dam and the subsequent implementation are funded by the government and the African Development Bank.
Over 1,792 families will be relocated to pave way for the project, with 935 already compensated.