Peter Kuguru: What being in business for 47 years has taught me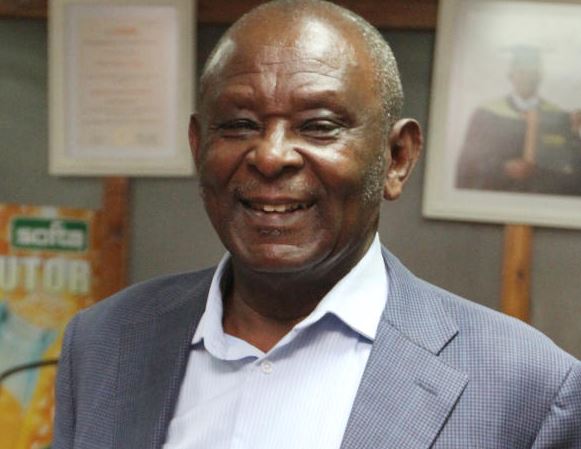 Meet Peter Kuguru, the man behind Softa Soda, the soft drink that was loved by many children in the 90s. His business, Softa Bottling Company, gave giant soft drink companies sleepless nights. The company eventually went out of business after many years and the businessman went on to pursue other ventures.
Only recently, Kuguru, who is the Chief Executive of Kuguru Food Company, invited Kenyans to harvest locusts, which he would buy from them at Sh50 a kilo. As everyone else complained about the ravaging locusts, Kuguru saw an opportunity to harvest them and process them into animal feeds and supplement. He shares with Hustle the ups and downs of a business journey that transformed him into a force.
Why the food processing industry?
My undergraduate degree was in Food Technology in Massey University, New Zealand. One of the subjects was product development.
This was an entrepreneurship course where we researched on innovative products. We would then develop the products, produce and patent it if it was good enough. My product was banana-milk biscuit.
What was the first venture into real business?
I started making potato crisps when I came back to Kenya in 1973. I had learnt some basic skills. I did this in my kitchen and distributed them to supermarkets around the city. In 1975, I got into the industrial world.
I went to Kenya Industrial Estates (KIE), borrowed a loan of Sh2 million from Industrial and Commercial Development Corporation (ICDC) and started making noodles.
Sh2 million was a lot of money back then. What collateral did you have?
The collateral was personal guarantee. The government was looking for people who wanted to do entrepreneurial activities.
When you went to apply, they asked you to do a feasibility test, bring a cost of machinery plan and they would then give you the loan. I was required to pay 5 per cent as my project-owner funding. I gave Sh100, 000 and they gave me the remaining Sh1.9 million.
What followed noodles?
I went into bakery and confectionery up to 1980, then Kenya experienced a shortage of flour after a long drought which affected maize and wheat production. I was then the chairman of Bakers Association of Kenya.
Some of us closed down and I started a Chinese restaurant in town that ran up to 1986. In bakery, we were only second to Elliotts. Then I saw a tourist hotel put up for sale. I sold my restaurant and bought the tourist hotel. I was in the tourist business for five years, up to about 1990.
Around that period, I saw Kibuku Beer company close down. The sudden introduction of VAT had knocked them out. They were looking for a buyer and so, I bought it, and I was in the beer business from 1991. I was there until 1997 when the arena became too political, with a lot of marketing warfare to boot. I closed down in 1997.
I was employing more than 10,000 people in the beer industry. We were keeping many farmers busy with growing sorghum for us. We had more than 50 trucks ferrying beer across the country. We used to produce over 30, 000 litres per day. But some people initiated dirty, counter-development campaigns against us, saying that we were lacing our beer with drugs in a bid to poison people. So we chose to exit.
Where did Softa come in?
Absolutely! Using some of the equipment from the brewery and adding more, and with modification and expansion, I was up and running. I bought Highlands Mineral Water plant in Nyeri, and from there Softa thrived for 10 years, driving the markets insane!
What did Softa achieve for you?
When Softa hit the market, there was a big rush to consume the soft drink. Public support was evident. All local retailers wanted to stock the drink. I was not even pushing for the drink to be bought. People were calling for it. It was wildfire. I was on CNN. People came from New York to interview me. I enjoyed that. I took at least 50 per cent of soft drink market in Nairobi.
But competitors brought to me even physical fights, tearing down my billboards and even breaking my bottles. We stagnated for a year, then came back with 1,000 containers from 2000 to 2004. Every container employed 12 people.
10 years in, what led to Softa's end?
The ending was gradual, actually. Our revenue was not as good as we wanted. Income was being offset by market costs. Fridges, coolers, dispensers- all those market investments which are part of a continuous expense, you know. There was also failure of government to support local industries, and our very determined competitors used a lot of money to drive us out.
After Softa?
We concentrated on maize milling and estate development.
Is Softa coming back?
No. The amount of money required to build Softa is billions of shillings. It is a big project- probably about Sh2 billion to start. Then, look at my age. I cannot be as active as I was 20 years ago. In five years I will be 80. My children who I was working with have gone on with their lives.
What's cooking?
I want to start on an agro-based industry, with an investment of not more than Sh1 billion. It is there in my mind, and I have already started building go-downs for it. I cannot reveal more for now.