4 tech start-ups share their bumpy journeys to success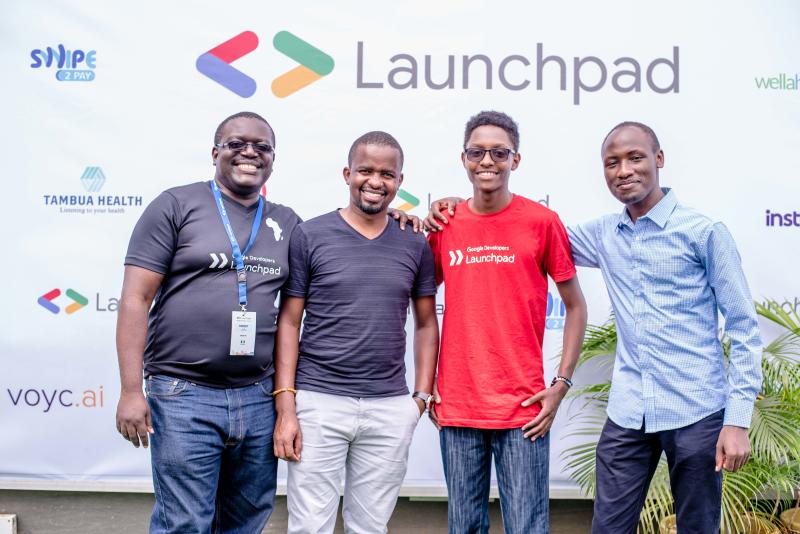 Start-ups are hard to run in unexpected ways. Resources aside, there will always be another milestone that is further out and harder to reach. That is the 'why' behind the Google accelerator program, that fosters start-up success.
The 12 start-ups of the third cohort of Google Launchpad Africa accelerator graduated late June this 2019.
The selected 12 start-ups come from six African countries, with Kenya leading with four; payments platform Data Integrated, lending service Kwara, addressing platform OkHi, and diagnostics app Tambua Health. Nigeria was represented by three start-ups in the form of drug discovery solution 54Gene, education funding platform ScholarX and pharmacy marketplace WellaHealth.
South Africa's two representatives were CX research platform Voyc.ai and career guidance and student funding start-up Zelda Learning.
Others were Egyptian nutritionist-finder service Instadiet.me Senegalese last mile delivery start-up PAPS and Ugandan payments solution Swipe2pay complete the cohort. All of the start-ups had some form of AI machinery and were handpicked from a large group of about 1,000 applicants.
Participants of this programme get access to intensive mentoring from more than 20 teams of Google engineers, access to Silicon Valley experts and top local mentors, as well as an opportunity to partner with Google for three months.
"This programme is about fostering growth in Africa. Over time, the progress of the start-ups is visible as some of the entrepreneurs have been in business for longer than 2 years but needed the mentors to perfect one area of their business.
"If you change the course while the rocket is landing you might miss it by a few feet. But if you change while it's taking off you might change it significantly. That is the core of the program," said Fola Olatunji-David, Google's head of Start-up Success and Services, Launchpad Africa.
Hustle spoke to some of the Class 3 founders on the challenges of building a start-up and how the Launchpad boosted their business:
Data Integrated Limited (DIL) – Find partners who build you
Data Integrated was started seven years ago. They automate and digitise SME payments, connecting the street to high finance. It helps small businesses track their day to day accounts.
Four years ago, DIL decided to transform their business model from hardware manufacturing solution to software focus and are now focusing on software driven solution in order to provide an automated end to end payment solutions.
They decided to test it out in public transport around 2014 when the government was trying out the cashless system with ticketing. When that didn't work, the matatus approached DIL to provide a solution for the management and operations system as opposed to ticketing.
They slowly gained good traction in the transport sector getting more credit cooperatives (saccos) joining and adding more applications.
"We were able to process over five million transactions and about $40 million in 2017 on our platform."
With such good numbers, what would an entrepreneur eager to jump head first into tech have to consider?
"Apps are good but trying to build software and tech companies in Africa is not easy. The infrastructure is not there. You have to go deeper and build a lot of things that in the fast world, is already in existence. Therefore, building apps without the core system to support them is not a viable business. It's like bringing in a car when there is no road."
Mary Mwangi, one of the co-founders, says Google has been helpful seeing as previously people needed a lot of money to buy servers but currently server space is available affordably.
"When we joined Google Launchpad, our app was for the business owners who are the saccos so it was a Business to business (B2B) but now we have an android based app for business to customer (B2C). Google helped in the development of the app with the developers getting specially trained. They also reviewed their system architecture to make it more scalable."
Tambua Health - Invest in yourself by reading widely
Tambua Health App, started in 2017, turns a normal smartphone into a powerful, non-invasive diagnostic tool for Tuberculosis and Pneumonia. It uses a cough sound acoustic signature, symptoms, risk factors and clinical information to come up with a diagnostic report. The application leverages on the abundance of smartphones in Africa to turn them into diagnostic tools. They have acquired research grants from Harvard and MIT cardiopulmonary diseases
"I've been in San Francisco for a year now and I've observed a lack of eagerness to do something. In Kenya people don't trust start-ups and more so those started by young people. We have learned to navigate that by having an older person pitch in a meeting," says Lewis the founder of Tambua Health.
The policies also don't support start-ups and funds are also lacking. It's interesting to note that most of the investors are not Kenyan or even African. It is easier for entrepreneurs abroad to connect with their idea and fund it. This cripples the economy.
They say that the youth with unique ideas should know that the idea will sell itself if it is a brilliant one. "Get to know your stuff and perfect it. Also, if you ask for money you get advice, if you ask for advice you get money. So be strategic in what you do. That involves investing in yourself by reading widely and getting mentors."
Kwara - Learn from others' mistakes
Kwara provides a digital banking platform that helps fair lenders such as credit unions or savings and saccos meet their members' needs instantly. They digitise operations so that the saccos can deliver the services they have been providing, but faster.
The alternatives in the market were sticking to pen and paper or using an excel sheet at best which is much more difficult to collaborate.
Kwara launched in early 2019 and got about 200 members collectively, but in the three months after that, they have grown tenfold.
The gap they hoped to bridge was that of software being expensive to buy and maintain, which is the nature of version based software.
"A start-up at the beginning needs generalists so having someone who is extremely focused can be challenging. You will need all hands on deck to build the start-up. It's also important to not just copy what's happening out there but learn from their mistakes."
Google has helped them focus. Coming in they had multiple products in various stages of development and they narrowed in one major product. But they agree that building a start-up requires a certain degree of "sticktoitness" and dedication from the very beginning. "Money follows money. Investors likely require a track record of success. Not having that evidence to show this is a profitable decision is very difficult."
OkHi – Make use of mentors to push your business
Timbo Drayson, the founder of OkHi explains that it is not "Oak-Hiii" but simply "Ok Hi", the two universally known words that are the inspiration for the name and nothing like it exists in the world.
OkHi is an app that enables people, mostly without an official physical address, to share their real-time location with other individuals or businesses. It's like google maps, but for people. The new consumer app has powered almost 500,000 deliveries in Nairobi having partnered with over 20 locally-based companies like ArtCaffe, Java, Tile & Carpet and Hotpoint.
Despite the seemingly upward trajectory, they still learnt a lot from the Google Launchpad.
"I was cynical before but I came around when we joined the class. I learnt a lot. Like how important it is to step out from the day to day running and make use of mentors to push your business. We plan to make strategic changes to the business based on conversation with everyone and target not only businesses but also other tech start-ups as potential customers," says Timbo.
They also learnt to make use of technology like AI and Machine Learning and using google tools to implement it. They intend to go live with some of the tech learnt in Q3.
Timbo co-founded OkHi in 2014 and muses that young start-ups defy many odds. For OkHi, it took time to make people understand and trust the business and taking off was a feat.
Like every other business, he was also finding it a challenge to find and retain the right people. "There's no shortage of talent in Nairobi. The problem is making the right choice of who to involve in your team. In this programme, I came to understand that I have not been doing a good job telling our story. We are very product geeky start-up engineers that we sometimes forget businesses also needs a bit of marketing and PR."