So you want to become a mediator?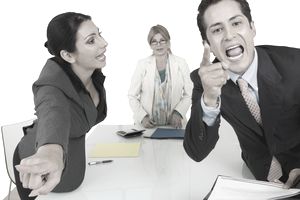 Alternative dispute resolution (ADR) has been gaining traction, particularly among businesses and individuals looking to avoid lengthy, expensive court processes. Judges also prefer that parties seek ADR to hasten the passage of justice.
This has given rise to a thriving sector, one that can be pretty lucrative if you're willing to put in the time and get the training required to help settle disagreements quickly and without showing favour.
ADR methods include mediation, expert determination, adjudication and arbitration. If you're looking to get into the field, here's how to get started.
What you need
1. Academic qualifications and industry experience
While anyone can get involved in ADR, it's important to have a bare minimum of academic qualifications and experience in the industry you'd like to lend your skills to. Many arbitrators and mentors tend to be lawyers, but it's not a job exclusive to the profession.
According to the Chartered Institute of Arbitrators, Kenya (CIArb), parties opting for ADR will often "seek someone who has the core skills required for an arbitrator/mentor and knows the area of business that the dispute has arisen in and therefore understand its complexities".
2. Training
You'll need to undertake training to understand the law of obligations, the law of arbitration, arbitration practice and procedure, award writing, the law of adjudication and mediation to perform at an optimal level in ADR. CIArb offers a variety of courses depending on your level of interest in ADR.
The advantage of using the institute is that you get internationally recognised certification, qualifying you to work across the world. If you have a law background, however, you can take an accelerated course to focus on understanding the modalities of ADR.
Course pricing varies from Sh30,000 for an introduction to mediation, to Sh160,000 for commercial mediation training and accreditation.
3. Patience
Helping parties arrive at an amicable resolution to their disputes will often take a lot of work. You'll be required to sit for hours listening to both sides, read documents to familiarise yourself with the issues at hand and do your research to come up with a determination that's fair to the parties involved.
4. Membership
To become part of CIArb's database, and thus gain access to clients looking for ADR, you'll need to become a member of the institute.
There are four levels of membership: associate, member, fellow and chartered arbitrator.
"For those with little or no knowledge of dispute resolution, it is necessary to complete an entry course for Associate membership. Suitably experienced lawyers may qualify for Fellowship by completing the Fast Track Programme," notes CIArb.
To become an associate, you need to attend the institute's two-day entry course, which is held twice a year, and pass a post-course assignment. Course dates are advertised at least two months before commencement. There's also a fee of Sh29,264.
After gaining experience and deepening your knowledge of ADR, you can move up to the other membership levels.
Your earnings will tend to be guided by your experience, knowledge and skills. A rough guide of what you can expect for arbitration, for instance, is between Sh5,000 and Sh30,000 per hour, depending on your experience.