House of Dotty: Business created out of love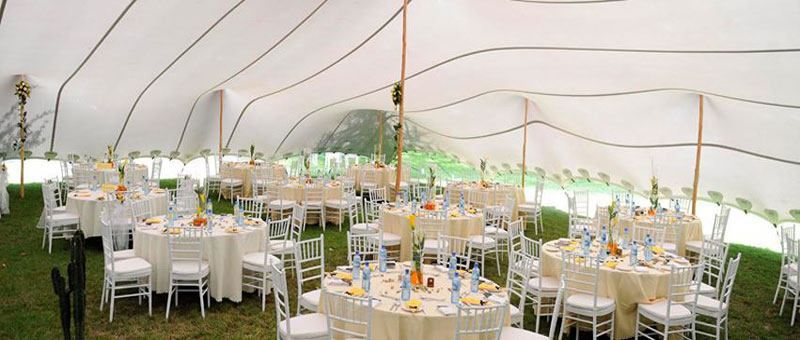 Alfred Kimweli, 39, has been married to his wife Dorothy, 38, for 11 years. Together, they run House of Dotty – named affectionately after Dorothy.
House of Dotty began as hobby and side hustle in 2010 for this husband and wife team. Both of them had previous experience working within the tourism and hospitality industry.
They started off as tour guides before Dorothy became a marketer and Alfred joined a local airline as cabin crew. Both describe themselves as extroverts; with Dorothy being very practical and analytical and Alfred very detailed oriented.
When it came to setting up their business, these are some of the traits that made them so highly dependable and trusted among friends and potential clients.
The inspiration
"After planning our wedding in 2006, many of our friends and family were getting married more or less at the same time. They called on us to help them. By default, this made us realize the potential that we had," Alfred says.
"Initially we did it for free, but due to the nature of our full-time jobs, sometimes we would be too busy to help them. That's when people started paying us a small fee to incentivize us to create time for their weddings. With time, word about us spread and soon, what was just a fun hobby became a thriving business."
As the business gained momentum, Dorothy left her job in 2012 to concentrate on the company, while Alfred continued contributing part time.
Dorothy then took an entrepreneurial class with Wylde International, a professional services consultancy, in 2014. What she learnt helped the couple put structures in place to make their business official and cement House of Dotty as a brand.
In 2016, Alfred stopped flying to focus fully on the business.
"With our professional backgrounds, we've had the best customer service training and a lot of personal growth, which has been very instrumental in our business," Dorothy says.
"House of Dotty was founded on loyalty, dedication and customer service. We're known for our attention to detail and highly organized and proactive approach to planning, as well as our creativity and professionalism. We strongly believe every bride, regardless of her budget, should be able to hire a wedding planner and we offer 'couture' planning solutions aimed at the specific needs of each customer."
The gap
The more weddings they planned, the more the couple realized how huge a gap there was in the wedding planning industry.
"People have become busier with their day-to-day obligations, and they aren't as available for wedding committee meetings as they used to be, hence the need for wedding planners."
In the early years of business, the couple says wedding committees viewed them as 'enemies'.
"People didn't see the value of a wedding planner. They solicited friends and family to help with their big day. But today's bride understands the value and is more receptive of a wedding planner," Alfred says.
"Referrals have been our biggest marketing tool. Every wedding we do always leads to the next one. Our biggest break came when we did our first wedding for a diaspora client – a Kenyan who was living in the US," Dorothy adds. "She became our biggest marketer out there and we started doing more and more weddings for Kenyans in the diaspora. Currently, this forms our biggest client base since they're the ones who truly need a professional to run things for them back home. They usually come in three weeks to their wedding at the earliest."
With time and continued growth, House of Dotty gradually diversified into event rentals.
It currently owns niche products, like Chiavari chairs, Luxe seats, Alpine tents and Bline tents, that are rented out to other event service providers.
Running the business
As is common for most SMEs, the day-to-day running of the business involves Dorothy and Alfred juggling different roles as needed – directors, marketers, accountants, human resource officers and even operations.
"Our business involves a lot of meetings – face to face, on phone, Skype and email communication. Given weddings are quite intimate, there's a lot of emotional attachment. We always need to be there for our clients," says Dorothy.
Dorothy and Alfred are the lead coordinators and main contact persons throughout the wedding planning process.
However, on the day of the event, they usually have at least three other coordinators helping out.
The current workforce consists of five permanent staff and at least 15 semi-casual staff who are called upon as the job demands.
They also have an office assistant who helps out with administration and a part-time accountant who comes in once a fortnight to help with the financial aspects.
"We continuously seek out training to help put in and improve systems, structures and processes to make our outfit more professional. Currently, Alfred is undertaking The Greatness Business Club entrepreneurial course at Wylde, which is really instrumental in our quest to move House of Dotty from a one-man/one-woman show to a global company," Dorothy says.
The obstacles
According to the couple, employee retention is one of the biggest challenges in the industry.
Effective delegation and selling your dream to a team for them to deliver as expected is another hurdle they cite.
As small business owners, it is difficult to step back from the daily grind of running the business, especially when working together as a couple.
"We have a hard work-life-family balance. To cope with this, Dorothy has had to be strict with time management and doesn't do any work-related business after 6pm to help her focus on our two daughters and family matters. I do the overtime," Alfred shares.
"We have grown into a respected brand in the wedding industry. However, with success comes a higher expectation from clients. Our business is capital intensive, especially for seats and tents that keep up with ever-changing trends in the industry. That requires one to continuously reinvest and reinvent to remain relevant. Working capital management and access to lending are some other continuous challenges for us."
He adds that increased competition has also led to under-cutting in the industry as everyone scrambles for a piece of the pie.
"Many players in the industry are greatly undervaluing their worth. We've learned to do what we do best and offer value to our customers. That helps us overcome this problem."
House of Dotty is looking to expand into other major cities of the country and into the East African region. They have also started a mentorship programme to give upcoming planners a practical feel of the business.