Onyango: Trick to cooking is doing it from the heart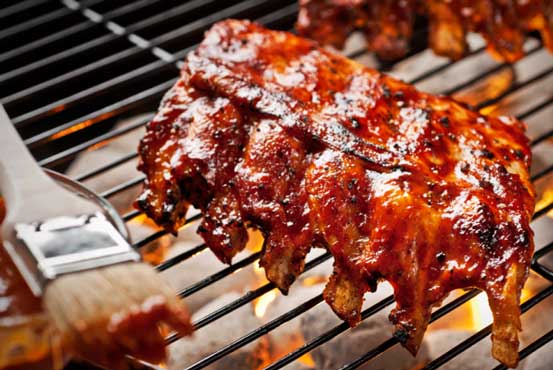 NAIROBI, KENYA: It's that happy holiday season, and many of us are looking for the perfect barbecue plan to enjoy with friends, families or colleagues.
For Tony Onyango, popularly known as 'Ja Juok' (the witchdoctor), grilling is not just something he does over the holidays – it is a passion and a business.
His company, Y-Not Grill, specialises in barbecue cuisines for home and corporate events.
As he gears up for a busy Christmas season, the 42-year-old chats with Hustle on how he turned a life-long passion into a thriving business.
Question: How did you discover your love for cooking?
Answer: It's a funny story. My parents used to travel a lot and when they did, they left me in the care of my older sisters. My sisters would threaten that I would only be allowed to eat the food they cooked if I washed the dishes afterwards, but I hated washing dishes.
So I opted to cook my own meals. It started as defiance, but I slowly realised I was quite good at it. My sisters now wanted to eat the food I cooked.
Later in life, I was always the guy picked to grill at a party. I did it for fun for close to two decades.
Question: When did you decide to turn this into a business?
Answer: In 2011. I had just done two back-to-back weekends grilling for friends. At the end of both parties, their wives gave me an appreciation token for my time. No one had ever done this before.
I immediately thought, I can make a living out of this – or at least earn some supplementary income. I'm a banker by profession.
Question: Your bosses don't have a problem with your side hustle?
Answer: Actually, I've done quite a few events for the bank itself and been paid. Some of my bosses also use my services, so I want to believe that they're fine with it. Grilling is a weekend affair, it doesn't interfere with my Monday to Friday schedule.
Question: So how much supplementary income do you make from your grilling?
Answer: I'll be honest – the business has turned out far better than I thought it would. I think because of my banking background, I was very particular about setting things up right from the get go.
In Year 1, we had a turnover of Sh1.2 million. Last year, we turned over Sh3 million. For a part-time gig, I'm very happy with these results.
Question: What was your start-up capital?
Answer: Two jikos. Each cost Sh9,000. Since then, I've reinvested more than Sh3 million into the business.
My dream for Y-Not is to transform how we grill in Kenya. Grilling, or nyama choma, is generally associated with a mbuzi, roasted for a few hours and washed down with kachumbari and beer. But a good barbecue is more than that. It should be about multiple flavours, textures and presentation.
I'm constantly looking for better equipment and new recipes to accomplish this.
Question: Give us an example of some of the equipment you've invested in.
Answer: The most expensive would be a trailer grill – it can cook about 400 chicken at the same time. This is ideal for huge parties.
Question: What's the largest number of people you've cooked for?
Answer: That would be 500 people. I had six chefs and 15 waiters.
When I do my grilling, I like to serve the food in small quantities over a period of time. I have found clients enjoy the different meats more this way.
At a party, we would first serve chicken as the guests arrive, wait half an hour and then serve goat, wait another 20 minutes, and then serve mishkaki. I like to end my grills by serving pork, which is my speciality.
Question: What makes your barbecues stand out?
Answer: Flavours. I always infuse a unique aroma into the meat. I like using fruit wood to grill, like lemon wood. As the meat is smoked, the subtle scent and taste is absorbed into the meat.
The technique also matters. Most people think a hot fire is the best way to cook their meats, but smoking meat over an extended period of time gives it a tenderness that a direct fire can't.
This isn't something new. In my culture, meat is smoked for preservation. We call it alia.
One of my other signature dishes is a sauce I call olund saitan. Please don't ask me to translate that – it's not exactly PG. The chilli is extremely hot and freshly made. I include it as a side in all my grills. It's always a great moment watching clients trying to survive the chilli the first time they taste the sauce.
Question: You're selling a brand, so what are the charges for your services?
Answer: It depends on the meats and the number of people.
A typical home party will likely have 25 guests. If they pick four meats – chicken, pork, goat and fish – the entire package will cost approximately Sh35, 000 and include two starches and one salad. The party I did for 500 people cost Sh800, 000.
Question: Events and parties are seasonal, so how do you ensure you stay afloat when they're in short supply?
Answer: We have other revenue streams, like our delivery service. We grill your meat and deliver it to your doorstep or your event. For this, we charge per kilo. For example, a kilo of goat meat would be Sh1,000 and pork Sh1,2000. Delivery charges depend on the destination.
I also run a kitchen at a home pub and restaurant called Mbukaki.
One of my goals, however, is to reach the Sunday family lunch crowd. Many of these people go out to eat every Sunday, but can't enjoy a good grill because most grilling venues are not suitable for children. I'm currently sourcing for a venue and equipment to make this dream possible.
Question: You're becoming a household name when it comes to grilling – how have you made this happen?
Answer: By providing good meat that tastes different from the meat you get when you walk into your everyday restaurant or pub. A personal chef gives you a very different experience from commercialised food. Also, when I was starting out, I participated in a number of grilling competitions, like 'Brothers of the Grill'. I was competing with the big boys – known restaurants and hotels.
I won two times. That's when I was convinced; the trick to cooking is doing it from the heart. Y-Not Grill will always celebrate that.