Made it, lost it – but I'm on my feet again: The making of a start-up's comeback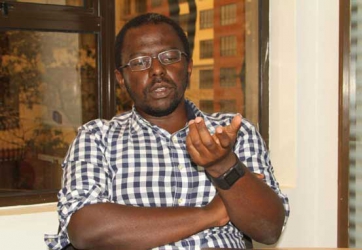 NAIROBI, KENYA: Inside the offices of Node Africa along Nairobi's lush and tranquil Riara Road, a clear jar sits on a table. It is crammed with Sh50 and Sh100 notes. When it gets full, this 'Swear Jar' is emptied towards a charity kitty.
How often it gets emptied depends on how difficult the days before have been for the team behind the young cloud start-up. During our visit, the jar is about half full. But times have been worse.
Node Africa was launched in January last year by the former founders of Angani Kenya Ltd. They had been "pushed out" of their previous company in a dramatic shareholder battle that exposed the ugly underbelly of Nairobi's Silicon Savannah.
In an exclusive interview with Hustle, Phares Kariuki, the 32-year-old founder and CEO of Node Africa – positions he previously held at Angani Kenya – shared the story of how he believes newly acquired investors orchestrated a coup that left him and his co-founder unemployed in six short months.
The beginning
It started back in 2012 when Phares Kariuki and Brian Muita quit their jobs and decided to start their dream company.
"I was working for the African Media Initiative and Brian was with Ushahidi, and we had been talking about doing a business like this since 2008 when we were colleagues," Phares says.
The idea was to buy IT infrastructure in bulk, and then lease it out to businesses to handle their computing needs.
Towards the end of 2012, both Phares and Brian quit their jobs. They were in their late 20s at the time and they slowly built what would soon become one of the first local cloud service providers in the country. They also leveraged on the connections they'd made in the respective part-time jobs they still held.
Phares consulted for iHub, Nairobi's first co-working space, while his co-founder held a somewhat similar position with Ushahidi, a company he had been part of for one year.
"We bought second-hand servers, put them in a data centre and started experimenting," recalls Phares.
As its first premises, Angani sub-let a bedroom in an apartment in Hurlingam and used it as an office.
"There were so many things we first had to do to meet compliance, such as apply to Afrinic (the regional registry for Internet number resources covering the African continent), get into a data centre, apply for bandwidth, get our bank accounts, and so it took a while for us to get all of this in order."
It was not until June 2013 – close to a year later – that the company was incorporated.
Finding funding
The two continued bootstrapping the young start-up for close to two more years, and on February 11, 2015, Angani announced the close of a round of seed financing with leading East African investors.
"This funding proves it is possible to build an internationally attractive infrastructure business in Africa. In the coming year, we intend to leverage this capital towards our goal of handling Africa's data by helping enterprise businesses adopt to the cloud, as well as providing a platform service for local innovation, such as our Digital Media Broadcasting solution," Phares said at the time in a statement announcing the investment.
One month later, Angani formally launched.
First red flag
In retrospect, however, Phares identifies this as the point when things started going downhill for him and his co-founder, and what should have been his first red flag.
"We made many mistakes," he explains, unfolding arms that have been tightly folded across his chest since our interview began.
"I had made several assumptions and had set up the business based on trust. I didn't really sign anything. For two years, the shareholding structure was never updated to reflect deals that were madeon a handshake."
Phares says everyone just bought in and worked. But then he knew something was very wrong when he discovered top-level meetings were being held without his knowledge.
"You'd find a board member and a team member in the boardroom talking in hushed tones, and then you'd be told that it has nothing to do with you yet it's your company, your boardroom and you are the CEO, board chair and majority shareholder. How does it not concern you?"
At one time, Phares met a new employee who had been hired without his knowledge. The employee asked Phares who he was and what he did in the company.
By August 2015, less than seven months after signing the deal for the first round of investment, it became apparent to Phares and Brian that they were in "hostile territory".
"The nature of human beings is when something is explained to you for the first time, you tend to explain it to others in the same words it was explained to you. So when I heard several people describing problems exactly the same way, I knew there was a back channel and I was out of the loop. The company was no longer mine," Phares says.
"I had given up too much equity, put people on the board who I could not trust, given shareholding and taken on investments I should not have. I had basically made too many mistakes."
Walking away
Phares and Brian walked out of Angani seven months after announcing the close of the first major investment.
Their walk-out prompted a lawsuit from the remaining shareholders, which dragged the saga into the public arena, revealing for the first time the diverse shareholding the firm had acquired in a few months.
Top in the shareholding hierarchy was US hedge fund BSP Fund, with 2,619 shares. The co-founders, Phares and Brian, each had 2,000 shares, while Riyaz Bachani and Ripduman Sohan also acquired 2,000 shares in return for their investment.
Other shareholders included Aaron Mbowa (500 shares), Africa's Talking (476 shares), Savannah Fund (238 shares), Emmanuel Kala (200 shares), Africa Angels Network (191 shares), Ory Okolloh (110 shares), Samuel Gikandi (100 shares), Eston Kimani (100 shares) and Pule Taukabong (40 shares).
The rebuttal
Erik Hersman, the general partner at Savannah Fund as well as a co-founder at Ushahidi and iHub, however, blamed the fallout in Angani on mismanagement on the part of the young founders.
"Unfortunately, at Angani, an all too common story emerged of inexperienced founders (knowledgeable, but inexperienced in management) who couldn't overcome personal differences in order to run a company, and had seen a decline in revenues over the preceding 3 months (37% in June, 17% in July and in August)," he stated in a blog post seeking to tell his part of the story following an outpouring of outrage online in the local start-up community.
"When you take a sizeable investment, your company isn't the same anymore. If things get tough (as they often do at some point in a company's life), then you'll have others outside of the original founding team weighing in to solve issues with you.
"In this case, that's what happened, and the independent board members did the job of oversight and governance. A number of viable options were proposed and considered, whether that be restructuring the company or changing executive positions, however, two of the founders rejected any board recommended changes and opted instead to leave the company ... and walk away."
Phares, though, calls this a smokescreen created to hide the real reason – which he believes was to kick him and Brian out, and sell the company.
"There are things you do when you are building a company to flip it, and there are things that you do when you are building it for the long-run, and they (the new shareholders) were making motions to flip the company," he says.
"We had been in operation for two years when they came in, so the comments about historical performance were a smokescreen. They invested and wanted us out."
The two founders have also been accused of withholding passwords belonging to Angani, an accusation Phares refutes.
"Our handover was supposed to be three months, and then a softer handover working with the staff in transition over the next year, but this never happened," he says.
"What we were asking for is an assurance in writing – since we were giving up all leverage – that we'll be freed from all obligations at the firm. Instead, we were sued."
Moving on
Today, the two entrepreneurs are working to propel Node Africa to the heights they once envisioned Angani would reach.
"There are many things I would have done in retrospect. I'd have maintained more control and not have given all that equity. I'd have financed Angani from the pocket as much as possible, and that would have ensured organic revenue allowed it to grow, and given us enough time to bring in investors aligned with our long-term vision."
Node Africa was started with capital raised from friends and family, and despite his experience with Angani, Phares says the firm is still open to external funding.
"My thinking is that you should not throw the baby out with the bath water. Just know the people who are signing up and ensure that they know what they are signing up for. And get good legal advice," he says.
While the firm has been in operation for slightly more than 18 months, Node Africa has dozens of clients across three continents. "About 40 per cent of our business comes from outside the country," Phares says.
"We work with small and big companies, and our customer portfolio includes a government agency and an investment bank."
Next month, the company is setting up an availability zone in Mombasa, the first physical station outside Nairobi.
At the moment though, the company, which is staffed by eight employees, is focusing on improving the client experience and building its local offering, rather than on expansion.
More importantly, Phares states that the investors coming on board know exactly what they stand to get from Node Africa.
"A general thread in Aristotelian tragic heroes is that eventually they fall from grace and become villains and for me, Angani was a moment I saw my business partners and people I thought as mentors for who they really were and not who I thought."