Beating the odds to quench thirst for knowledge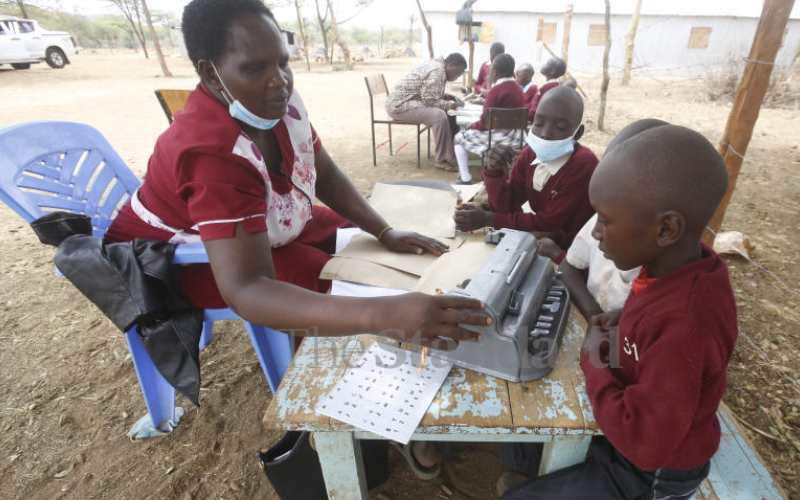 From a distance, one can easily mistake a class in session under an acacia tree at Emining School for the visually impaired for an extra-curricular session.
But on getting close, one realises the two separate groups of learners who are visually impaired are in a class, a space they have occupied since schools resumed after Covid-19 closure.
Located just adjacent to the learners under the tree is a tiny staff room that barely hosts two teachers. The headteacher is busy sorting out printed examination materials while the deputy is reading an English book and typing on braille.
"We are yet to receive the newly revised Competency-Based Curriculum textbooks for class five and the teachers have to read the regular syllabus, adapt and print them out for the learners," Caroline Kiprop, the headteacher, says.
The headteacher says learners have to be prepared to undertake the national examinations like other regular students.
And while the struggle to locally adapt to the CBC in the special school is not an easy task, lack of basic infrastructure remains the biggest hurdle. The school has 50 learners but only has nine functional braille machines and a single computer.
It also lacks an enlargement and reduction photocopier which aids photocopying classwork and exams to learners according to their sizes. The scanner also broke down.
"Braille is like a pen and a book to these learners. Just like it is hard to teach a regular child without a book and a pen, it is the same with these children. Teachers and children have to share and it is not always easy," Ms Kiprop said.
Lack of enlargement and reduction photocopier, the teacher says, makes it hard for the teachers to dispense examinations to learners with low vision who have different font preferences depending on the sight levels.
While others prefer smaller fonts, others require magnified ones. The lack of a photo imposer also makes teaching using pictures and shapes harder.
"These basic things that are vital for learning. We have to use special braille papers that cost Sh1,000 per ream and the school uses three reams in a week. Embossed papers used to draw diagrams and figures cost Sh1,500 per ream. Despite the high cost of these materials, we have little funding from the government because the school still has a small population, and capitation is given as per the number of learners," she added.
While the school also depends on parents to chip in for funding, especially paying for meals and boarding, she says the majority of pupils are from poor backgrounds.
"You cannot send a visually impaired child home for school fees. We have to depend on donors most of the time," she said.
According to deputy William Tataka, lack of key resources hampers learning. "A teacher in a special school works five times harder than a teacher in a regular school. At the moment when we do not have the books, a teacher in a special school has to read, adapt, type notes and print them. The challenge is that one topic for a regular child means almost eight volumes of a child who is visually impaired. This means a teacher has to adapt and come up with volumes of papers for the learners," Mr Tataka added.
To ease the challenges of the lack of braille machines, the school is among a few in the country that was selected to pilot the use of Orbit Reader 20, a three-in-one device that allows the learners to take notes and read books stored in the memory card.
"These devices help a lot. It reduces the number of papers we use on a daily basis plus the learners have access to several books. It makes teaching and learning easier even during examinations because the learners save their work in folders which the teacher can easily access for marking," Mr Kizito added. The school also has insufficient boarding facilities. It recently relocated from its mother institution, a reason why it still lacks basic infrastructure.
"When the schools resumed after the long closure due to the Covid-19 pandemic, we had to move our learners to this section from the mother institution that was hosting us because of the containment measures. When we moved in, there were only a few structures which we partitioned to host the classes but they are not enough," Ms Kiprop said.
But it is not the lack of vital infrastructure that defines the school. The passion and teamwork between teachers and learners have seen the institution become a success story in the midst of challenges.
In 2019, the school managed a mean score of 227.40 while in 2021 it recorded a mean score of 236.67.
"We are also hopeful that this year, we will beat our 2021 record," Ms Kiprop said.