Solar for all homes by 2040 among flagship Kiraitu projects for Meru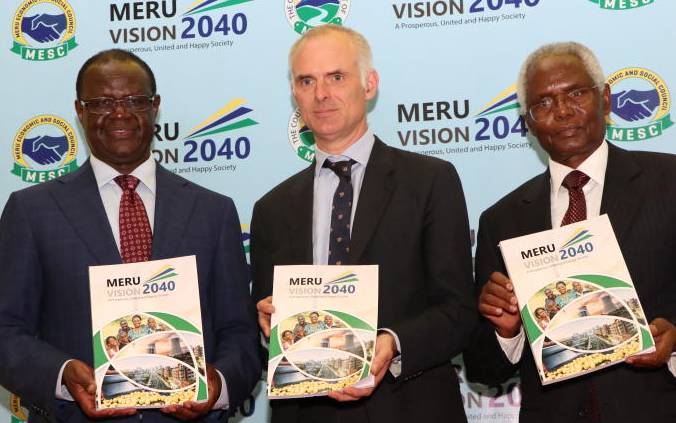 Domestic solar lighting will replace use of tin lamps in Meru homes if the county government's Vision 2040 is realised.
Launched by Governor Kiraitu Murungi on December 5, the blueprint, which will guide the development agenda for the next 21 years, aims to implement mega projects in the agricultural, education, energy and other sectors.
The county plans to instal floodlights and streetlights in all townships and market centres by 2022.
The administration is also seeking to tap hydropower from the various rivers in the county through the development of mini-hydropower plants in the medium-term, with transmission lines for distribution. Transformers will also be fixed to enable all households have access to electricity by 2030.
The county will develop a recycling and solid waste management plant in the short-term and develop wind and solar power parks by 2040.
In the roads sector, the county plans to construct a dual carriageway from Nkubu, through Meru town to Maua town, with a branch from Ruiri to Isiolo Airport.
In ICT, the plan is to build a fibre-optic backbone in every ward by 2040, to boost connectivity and access to internet services, and to set up digital villages providing free Wi-Fi in all sub-county headquarters.
The government plans to ensure all public institutions in Meru are connected to fast and reliable internet by 2022, and have full GSM (Global System for Mobile) network connectivity in areas that currently do not have mobile connection coverage.
A railway line connecting Meru to the Nairobi-Nanyuki rail-link is also planned to ensure Meru benefits from the Lamu Port-South Sudan-Ethiopia Transport corridor, which will pass through Isiolo and northern Meru.
A flagship project being implemented by the government is a railway line for passengers and cargo from Sagana, Embu, Tharaka Nithi and Meru to Isiolo, and construction of a county metro and electric tram system to link Meru to Isiolo metropolis.
Airstrips
The government also plans to revamp several airstrips, including two in Nyambene, and two others in Imenti, in the short-term.
In the water sector, it plans to build a dam in each of the current 45 wards and develop a stormwater storage system in all urban centres by 2040.
It also plans to build at least 10,000 low-cost housing units by 2040, and establish a factory for the production of alternative building materials.
After the launch, the next step will be to set up a Vision Delivery Board to oversee implementation of crucial flagship projects, a mandate to be supported by a delivery secretariat. Among medium to long-term visions for Kiraitu is the manufacturing of pharmaceutical products to make essential drugs accessible and affordable.
Also, there are plans to establish a Meru Gastrointestinal and Cancer Centre to help reduce non-communicable diseases. A traditional medicine research and linkage centre for disease trend monitoring will also be established.
In the education sector, Kiraitu is seeking to have university colleges in every sub-county, in the medium to long-term.
He is seeking to employ 1,000 youths every cycle for the next five years.