Nzoia Sugar Company to close for maintenance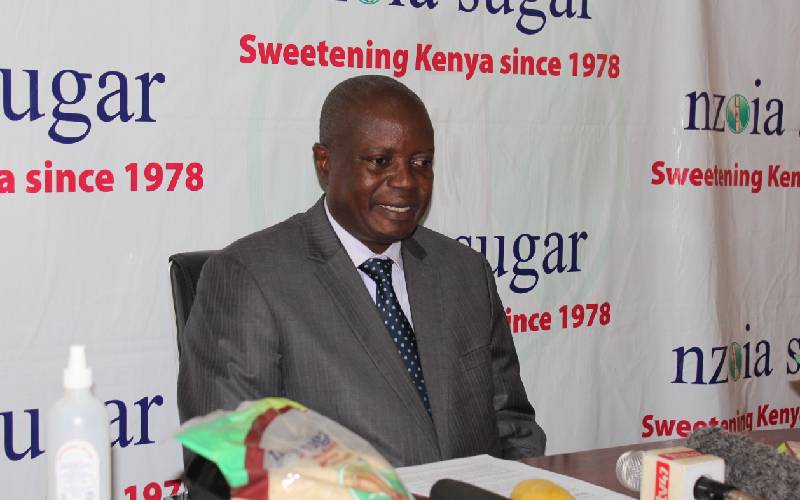 Nzoia Sugar Company will suspend its operations for eight weeks for routine maintenance from May 19.
Acting managing director Chrispine Ogutu today said the closure was informed by a drastic drop in sugar production due to faulty equipment in the factory.
Mr Ogutu told journalists that the firm has been doing badly in terms of sugar recovery.
"Currently, we are able to get only one tonne of sugar from 15 tonnes of sugarcane crushed, a clear pointer to the challenges we are facing," he said.
According to him, 9 – 10 tonnes of cane crushed ought to produce 1 tonne of sugar.
"The break will give us ample time to fix faulty machines and improve production efficiency," he said.
Mr Ogutu said they have not taken a break for a period exceeding six years leading to underperformance in terms of sugar production.
"This has also made it hard for the company to pay farmers for cane deliveries," he said.
The managing director indicated that financial difficulties made it hard for them to close down for maintenance.
"We had planned to do a thorough maintenance but there was no money because the focus was on clearing accumulated arrears owed to our farmers," said Ogutu.
Nzoia Sugar received Sh500 million out of Sh1.2 billion released by the National Treasury for state-owned sugar factories bailout.
The allocation received last year was meant to pay the farmers.
The management disclosed that Sh284 million out of the allocation was paid to the farmers and the remaining Sh216 million went into procuring recommended spare parts meant to improve the efficiency of the factory.
"The money was not credited directly to the company account but was released to us through Agriculture and Food Authority (AFA) and it took long before suppliers of the spare parts were paid,"
According to Ogutu, suppliers were only paid last month before they embarked on plans to ship the equipment into the country.
"We expect the spare parts to arrive starting today."
Nzoia Sugar plans to resume full operations around mid-July when all faulty machines will have been fixed.
Mr Ogutu has told farmers with the mature crops to be patient for two months.
"We shall resume cane harvesting immediately after maintenance, whatever we are doing is for the benefit of the farmers," he said.
Nzoia is among state-owned sugar factories that had earlier been lined up for auction to strategic investors.
The company has been without a board of directors for over two years after Agriculture Cabinet Secretary Peter Munya revoked the appointment of board members in 2020.