250 families displaced in Nyanza region as floods wreak havoc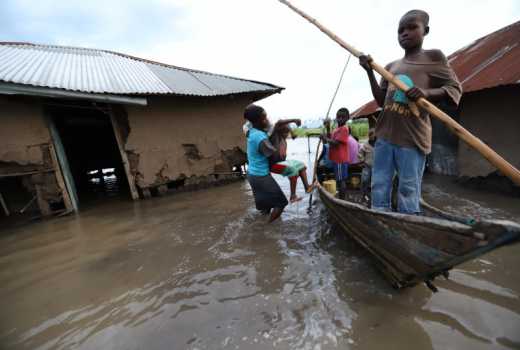 At least 250 families have been displaced in fresh floods after River Nyando broke its banks following continued rains in Nandi Hills, the main source of the river.
Residents of Ombaka-Kakola area on Wednesday woke up to masses of water spreading into the villages, causing massive damages.
Three villages were affected by the floods, with Kariwindi South recording 170 households affected, another 50 households in Kanyipola and the rest in Kasambura-Kamahawa.
Residents said the unexpected floods started on Monday night, and the water quickly spread into the villages, marooning houses.
Some managed to rescue their animals and household goods using boats, while those who had no ready access top the only mode of navigation through the waters only saved their lives.
Susan Oricho, 46, had to escape with 10 members of her family to the nearby Living River of Life Ministries Church where 76 other households had sought refuge.
Oricho said the displacement was the second in three weeks, coming three days after they had gone back to their homes following the first floods which struck early this month.
"We had moved to this church and stayed for about one week. The rains had subsided and it was safe to return to our homes. But we were surprised when water came again yet it has not rained for over a week now," she said.
She was not able to salvage anything, asking the government to intervene and help those affected who are forced to depend on neighbours.
Pamela Aguko, another flood victim said she only managed to leave the house with few cloths and her three children on Monday night.
"I just picked one suitcase and held my children as we moved to the safe ground. I was lucky that there were some few clothes in the suitcase for all of us," she said.
Justus Abong'o, a volunteer who participated in evacuating some of the residents who had been marooned said the victims were facing food crisis following failure by government agencies to respond and help.
He said the victims also lacked safe drinking water since wells, which have been their main source of water have been covered by the flood water, while the lake shores have become inaccessible and polluted by water washing away human waste from latrines which have been submerged.
"We only got some few bags of foodstuffs from the Kenya Red Cross. We have tried to reach the two levels of government but nothing much has happened," he said.
Area Chief Jacob Ong'udi said at least 150 livestock could not be accounted for in the three villages following the twin floods.
He said over 500 acres of farm land in crops were also at risk of total damage following the flooding.
"As we speak we are using the boats to move around the villages to check if there are people still stuck, especially women, children and the vulnerable and bring them to the safe grounds," said Ong'udi.
County Director Special Programs Ruth Odinga called upon well-wishers to intervene and donate clothing, bedding, foodstuffs and other household goods to assist the affected families.
"We are trying to reach out with what we have, but we need support from well-wishers because the effects of the flooding is widespread and we have a strained budget," she said.
Hustlers aren't always honest
The image of a hustler as a patient, persistent and hardworking citizen is often punctuated by the reality of men and women who take shortcuts.