CS Fred Matiang'i assures media of State support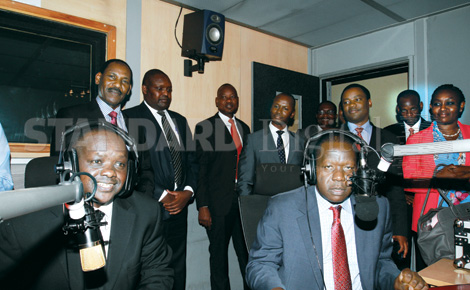 Standard Group CEO Sam Shollei (left) with Information Cabinet Secretary Fred Mathiang'i at the Radio Maisha studios in Nairobi, Wednesday. Looking on are senior Information ministry and Standard officials. [PHOTO: TABITHA OTWORI/STANDARD]
By JAMES MBAKA
NAIROBI, KENYA: The Government is committed to freedom of the media despite intense scrutiny by the Fourth Estate, Information Cabinet Secretary Fred Matiang'i has said.
The Cabinet Secretary said the Government was keen on forging a closer working relationship with the media as mutual consultation and co-operation are critical to national development.
Dr Matiang'i said the Government had no business muzzling the Press and welcomed constructive criticism from the media.
CRITICISE GOVERNMENT
All Government agencies, he added, had been directed to ensure that they support the thriving media freedom in the country.
"No amount of disagreement will cause us to encroach on freedom of the Press. No matter how much they criticise the Government, that will not stop us from supporting freedom of the media," he said.
Matiang'i spoke at the Standard Group headquarters when he visited Group CEO Sam Shollei and addressed top editors.
He said the Government appreciates the role the media plays as the public watchdog and called on the Fourth Estate to engage the Government in constructive dialogue to boost relations between the two, hitherto characterised by acrimony and disagreement.
"There is need to raise the level of engagement between Government and the media to move away from a confrontational approach to embracing consultation and candid co-operation in the interests of national development," he said.
Mr Shollei, who is the chairman of the Media Owners Association, asked the Jubilee government to change the history of media and Government relations, which are often negative.
"There is need to rewrite the narrative of media and Government relations through close partnership to ensure economic development and help advance Kenyan aspirations," Shollei said.
He challenged the Government to make information available to the Press and avoid frustrating the pursuit of balanced reporting.
"Sometimes media houses end up running stories without views from the Government because most State agencies are not co-operative, making it hard to access information," he said.