Nairobi city: Where affluent live, bourgeois survive as the poor exist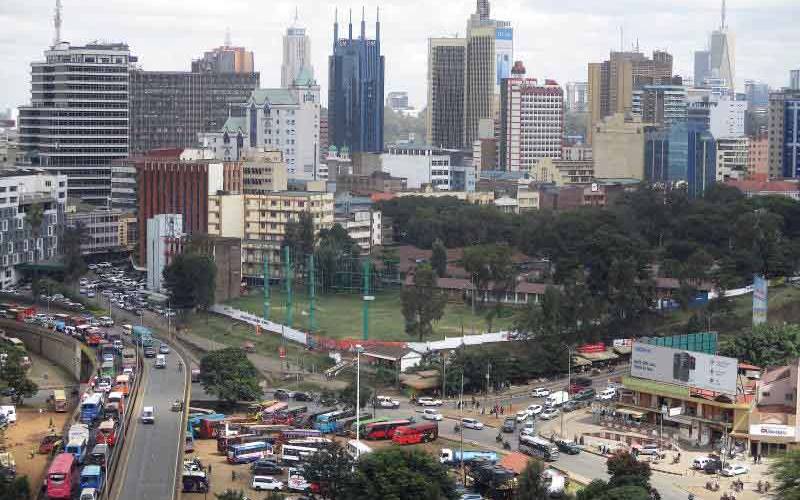 When the British naturalist Charles Darwin came up with the theory of survival for the fittest on the Origin of Species, no one knew it would aptly describe Kenya's capital city.
In Nairobi, the affluent live large. The middle class survive while the downtrodden merely exist in the hope that the next sunrise will bring better fortunes. While living in the capital city was already a hassle, the coronavirus pandemic made the situation even worse for residents.
Job losses and Covid-19 restrictions in the city put a strain on locals who were holding on to the last straws hoping for a change - with the rate of inflation remaining relatively high.
Recent reports show a two-kilogramme pack of maize flour has risen above Sh100. Bread has gone up between Sh5 and Sh8, not forgetting the increase in the cost of milk, fuel and electricity, among other necessities.
Prices for super petrol, diesel and kerosene hit new highs last month - retailing at Sh127, Sh107 and Sh97, respectively.
This compares to January's Sh106.99 (petrol), Sh96.40 for diesel and Sh87.12 for Kerosene in Nairobi.
The most recent report on Consumer Price Indices and Inflation rates by the Kenya National Bureau of Statistics (KNBS) backs the jump.
The housing, water, electricity, gas and other fuels' index increased by 0.59 per cent between February 2021 and March 2021, mainly attributed to the increase in prices of kerosene and electricity. The transport index, on the other hand also increased mainly due to a rise in the price of diesel.
Prof XN Iraki, an economist from the University of Nairobi, says it is human nature to look for alternatives during tough times - only that this time, the majority have been affected.
"These small-medium enterprises (SMEs) were there before Covid-19, we just had to downgrade ourselves to their level. The flexibility with small scale economies in terms of location and pricing made them attractive," he said. But living to the city's mantra, Nairobi residents have found ways to make their stay in the city bearable.
Iraki avers that this is not peculiar to Kenya. "In informal economies, this is common. In developed nations, the government is the fallback position. In the US, families got cheques from the government to help them survive the pandemic," he said.
While the pandemic could be with us for some time, governments across the world have come up with policies to help reboot their economies.
In Kenya, with the end of the pandemic not in sight, economic experts advise small enterprises that had stepped in during the pandemic to capitalise on the opportunity to grow and maintain their customers post the pandemic.
"The SMEs could expand and ride on that experience after recovery of the economy hence maintaining their new customers. Alternatively, it is possible to see individuals who will get used to the survival mode as a method of saving," said Iraki.
Here are a few markets that power the lives of Nairobians as well as serve regional economies.
KoroGocho Market
Located 11 kilometres northeast of the Nairobi city centre, the market specialises in selling fresh food and produce as well as new and second-hand clothes.
It operates daily with no official hours albeit disorganised in terms of the arrangements but people trade within the constraints of this disorderliness. But the market is famous for its vegetables and fruits that are sold cheaply - serving the bulk of Nairobi residents living in Eastlands.
A close check from your mama mboga in the Eastlands neighbourhood will trace the groceries back to this market that barely sits in a two-acre piece of land.
Here, prices of tomatoes, especially wholesale, are sold at thrown away prices and mama mbogas retail them at cheap prices, making Nairobi city life bearable. "I cannot go and buy my groceries from Supermarkets. They are quite expensive unlike kwa mama mboga where I have room to bargain and it is cheaper," said Lynet Awino, a resident of Umoja Two.
The vegetables sold in this market come from the central Kenya region while a few are said to be planted on sewer lines, but what is certain is that this market makes Nairobians life a bit easier.
Eastleigh
Dubbed the little Mogadishu or Kenya's Dubai, this business hub is the number one spot for bargain hunters in the Nairobi area. Here, billions of shillings exchange hands daily. Eastleigh also has over 20 banks - arguably Kenya's beaming business hub.
Thousands of people flock east of Nairobi in the Kamukunji constituency to buy products at relatively cheap prices.
While the area is known for its cheap newly imported clothes from China, Turkey and the Middle East, the business hub is slowly gaining traction for its relatively affordable food products. With wholesales shops lined along the street on your way to California, traders queue to find the best deal in food items that are largely sold at wholesale price.
"I buy local rice here 25kgs at Sh1,400, this will take me three months and saves me money and time. I stopped buying foodstuff in retail in the supermarkets, the wholesale is worth your money," said Nahashon Wafula a city resident. Nairobians have capitalised on godowns that stock foodstuff in this area that act as chain distributors in the city.
Foodstuff particularly wheat flour, maize flour, rice, spaghetti and cooking oil are the most sought after for people who want to survive the economic meltdown of the city.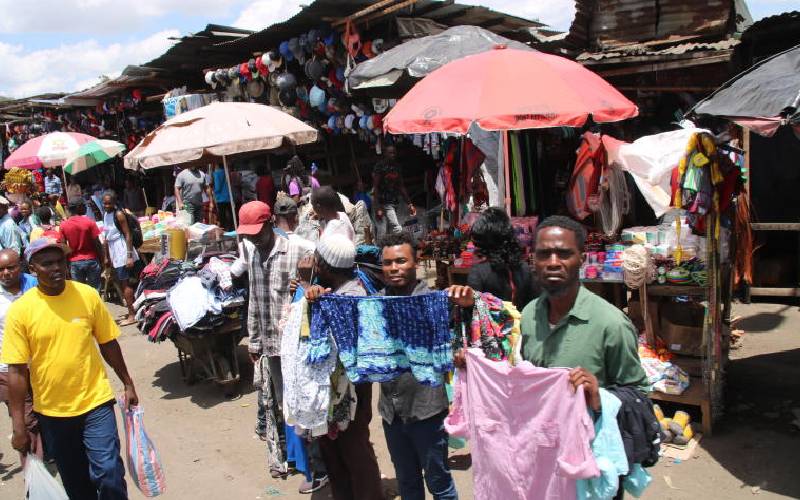 Gikomba
Though imports have gone down owing to Covid-19, according to data from the Kenya National Bureau of Statistics, these numbers represent Kenya's biggest open-air market in the Kamukunji constituency - Gikomba.
Arguably, each wardrobe in Kenya has pieces of merchandise from this market, and no one knows its importance more than the common Nairobi man. "I buy clothes from Gikomba but sell them here in the CBD, my target is office people who will not find time to rush to the crowdy market, I sell the clothes to them cheaper compared to new clothes in the shop," said Anne Wamaitha second hands clothes seller in Nairobi CBD.
Nairobi's new parents appreciate the market too. Newborn babies clothes are expensive but with the retail market, parents can comfortably dress their kids from as low as Sh30 a piece.
Food stall (Vibanda)
The meal sold in shanty stalls (vibandas) is the allure of fresh food and affordability that has made it the most sought after dish during lunch hours.
According to Nairobi County, there are over 1,500 licensed eating places in the city - 80 per cent of these being fast food joints. And the number is not about to reduce.
With a bulging middle class and supporting other fringe industries, the hot meals on wheels are not going anywhere any time soon.
But what has given birth to these businesses is the economic tough times that strangles the city on a daily. Nairobians must balance between transport money and a plate of lunch in the unforgiving tough street of Kenya's capital.
The vibanda not only provides an affordable alternative to meals from high-end hotels in the town but also gives a fresh taste just like at home. "I spend Sh100 on lunch here in town because I eat in a kibanda. If I try to go into the city's hotel, the best I can get with my budget is a glass of tea," said David Omwoyo.