State to spend Sh13 billion on Mai Mahiu road redesign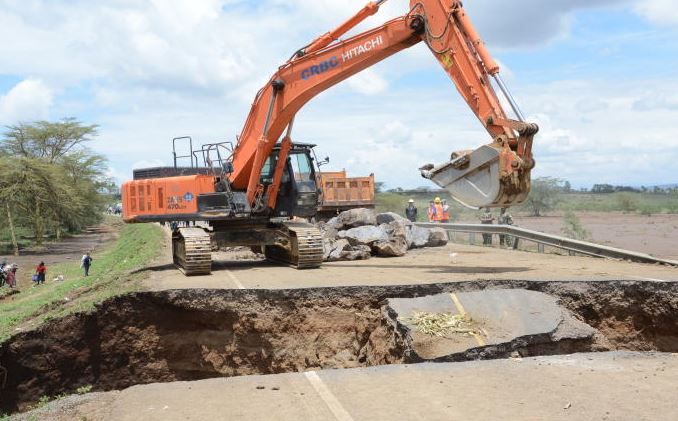 The road between Mai Mahiu and Suswa has been earmarked for redesign, which should bring the frequent closures that the road experiences every year to an end.
The 40-kilometre stretch has been prone to costly closures caused by flash floods that dump silt on the highway, rendering it impassable. There have been instances where fault lines have occurred and cut off the road.
The redesign and reconstruction of the road is expected to cost Sh13 billion, according to the Kenya National Highways Authority (Kenha).
Kenha noted that the road has experienced frequent closures over the last decade, which have become more frequent in the recent past.
"The road between Suswa and Mai Mahiu has experienced recurrent closure incidences in the last 10 years. Runoff from Mt Longonot and Suswa areas overtops the road depositing silt and initiating subsidence at fault lines, rendering the road impassable," said the State agency in an environmental impact assessment filing.
The road agency is seeking approvals from the National Environmental Management Authority to go ahead with the redesign and construction.
"The closures disrupt transport and economic activities dependent on the road. The redesign and reconstruction is aimed at eliminating the closure incidences and ensure smooth traffic operations."
The disruptions occur every time there is heavy rainfall, as was the case in April, or whenever there are earth tremors or volcanicity in the area. The dormant volcanic Mt Longonot is in the area.
Road users are forced to either wait for the road to be restored or use alternative, but longer, routes including the Narok-Nakuru road.
The Mai-Mahiu road forms part of the busy highway that connects Nairobi to South Rift and Nyanza regions. It is also the route to the world-famous Masai Mara as well as access to northern Tanzania through the Isibania border in Migori County.
"The proposed road project intends to eliminate the frequent road closures and ensure continued connectivity between Narok, Bomet, Kisii, Nyamira and Kisumu counties and the rest of the country," said the EIA document.
"The road project objective is aligned to national infrastructure policies and to ensure undisrupted traffic flow through the affected road section."
Lying between Longonot and Suswa mountains, the road is in a unique environment and is crossed by gullies that track fault lines, according to the EIA study commissioned by Kenha.