SGR track and signaling work continue amid Covid-19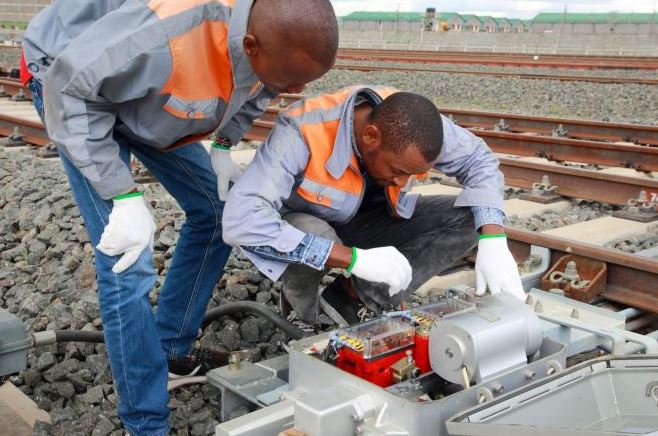 The track and signalling team is the only department of the company contracted to run the Standard Gauge Railway (SGR) that is still operational.
This is after other departments of Africa Star Railway Operation Company (Afristar) closed due to Covid-19.
According to Vincent Mboya, the department's head, even as the passenger train services remain suspended in the wake of the pandemic, his department has to be operational because track maintenance is important for safe and smooth train operations.
Mr Mboya in an interview yesterday said the department ensures the railway track and all its components are in good condition through regular inspection, repairs and maintenance.
He explained that some of the track signaling and maintenance checks include inspection of track geometric parameters using a track inspection vehicle.
"This is carried out regularly. Any defects found are repaired immediately. Heavy rainfall can have a negative effect of the railway track such as cracks on the subgrade," Mboya said.
"Afristar makes use of an advanced rainfall detection system to record the volume of rainfall. It's worth noting that high-definition cameras have been placed in areas where flooding can occur. In case of any danger, GSM-R equipment is used to stop an oncoming train."
Mboya continued: "In terms of signaling, the team ensures that the signs along the rail are in good condition and are facing the right direction. It also ensures that the signaling lights along the track are in good working condition."
He further explained that because railway operations involve interactions between workers, there was a high risk of disease transmission which could have adversely affected SGR operations.
Afristar made arrangements for a number of staff to proceed on paid leave and retained the track and signalling team.