It will now cost you Sh500 an hour to park at JKIA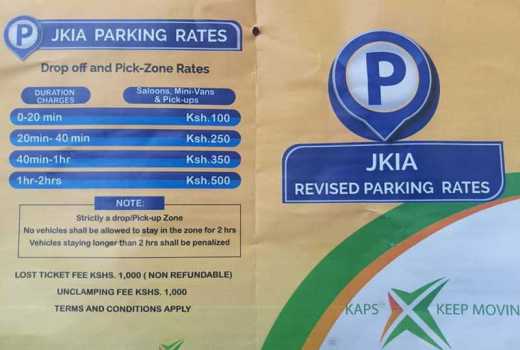 You will now pay Sh500 as parking fees at the Jomo Kenyatta International Airport (JKIA) for parking for an hour or two.
The newly revised JKIA parking rates provided by Kenya Airports Parking Services (KAPS Ltd) will see motorists part with Sh100 for 20 minutes accrued in parking.
Owners of saloon cars, mini-vans and pick-ups will be forced to pay Sh250 for parking 20 to 40 minutes while 40 minutes to one hour will force them to part with Sh350.
The new review also shows that a lost ticket fee will leave you Sh1000 less (non-refundable) including those whose cars will be clamped. Vehicles staying longer than two hours will be heavily penalized.
According to KAPS Ltd, the changes take effect immediately and are only applicable to both drop offs and pick-ups.
News of the revised rates has elicited mixed reactions from netizens who say that this is just another way of milking Kenyans money.
The Jomo Kenyatta International Airport is currently one of the busiest and fastest growing logistical hubs in Africa. It handles at least 6.5 million passengers every day on average.
It collects about Sh23.6 million a month from vehicles just accessing the airport even without parking. The revised rates will therefore see its revenue jump by a higher percentage.