Superhighways would be a catalyst for entrepreneurs to invest in surrounding areas
BUSINESS
By XN Iraki | February 11th 2018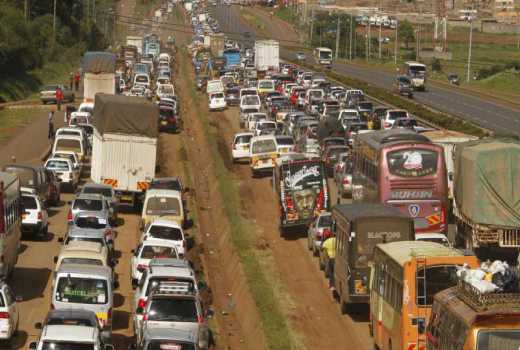 The snarling traffic jam on Thika superhighway only five years after its completion should be celebrated by urban economists. The road was a free experiment whose results we can now report. The hypothesis could have been something like; does construction of a new facility such as a highway or airport spur economic growth?
Most Kenyans on the route are bitter with the jam; they have to wake up at 4am to be in office on time. But they have a good reason to be annoyed. Where else in the world are speed bumps erected on a superhighway? Where else in the world does a superhighway end on a roundabout that is a bus stage?
But let us not digress and focus on the economics of the highway. Once the road was completed, it was logical that many Kenyans and newcomers would shift to that side of town to enjoy the smooth ride and maybe show off. How often do we hear, "I live on Thika road"? That had economic consequences. Those who had bought land around that side reaped as the prices more than tripled.
The best way to make money in Kenya is to keep tabs on the next roads to be tarmacked. Buy land next to the road and sell it when the project is completed.
It becomes sweeter if the land is acquired by the Government, as happened through the Standard Gauge Railway and some roads. Acquisitions, however, suggest our lack of forward planning. Did anyone plan for fibre optic cables?
Thika Road opened a super economic corridor between Nairobi and Thika. It sucked in nearby areas which drew closer to Nairobi. Land dealers have had a field day with their adverts, careful to indicate how far plots or houses are from the superhighway - though the distances are deceptively inaccurate.
Life has changed along the superhighway. The once coffee estates are now residential areas including Tatu City, not far from where my dad tried to buy land in 1927 and failed. But he saw the first plane while crossing Ruiru River - a scaring experience, he told me. The "bird" was smoking and noisy. The reluctant sellers were from "Mbari ya Igi" (Igi's clan). Maybe we can talk now.
Beyond land speculators, there are real entrepreneurs, who finally found it economical to develop their land or put up new businesses or factories.
The fast development of the Thika–Nairobi strip, clogging the road in less than five years, shows that we can deliberately spur economic growth using the visible hand of the government, which must be supplemented with the invisible hand of the market.
The two forces are like a pair of scissors, you need both blades to cut. That is why some projects such as the Galana-Kulalu farm or Eldoret and Kisumu airports have not been as successful.
BROUGHT ABOARD
These Government projects have not been supplemented by the market. No wonder market players have been brought aboard to rejuvenate the irrigation project.
Sometimes the market comes before the government. Where did Kitengela, Ngong and other small vibrant towns come from? Can we replicate Thika road economic success elsewhere? We can refer to Thika Road as a super economic corridor. We now suggest a few other corridors.
Let us start from the east towards west. The first should be Malindi-Mombasa. There is already a superhighway, the sea! It is still a mystery to me why I cannot take a ferry or ship from Mombasa to Malindi. This corridor would be the seat of the blue economy, from fishing to water sports.
A superhighway along the coast would be needed, too. Lots of people would want to settle along there. The greatest catalyst to growth of this super corridor would be retired people chasing the fine weather. Check the number of retirees (and their money) from the Northern hemisphere living in Mombasa. Canadians also flock Florida chasing sunshine.
Later the highway would extend to Lamu so that the whole coastline becomes a super economic corridor. Each corridor in Kenya should have a major airport to link it to other super corridors and the rest of the world. The corridors should further be interconnected by rail or road.
Next super corridor should be Moyale-Mandera. The key driver to its growth is closeness to Ethiopia and Somalia. Cross-border trade would keep the economy humming.
Other corridors would be Meru-Embu driven by rich agriculture and Kitale-Lodwar. The marginal land, and oil, together with tourism around the Lake Turkana, nearness to South Sudan, Uganda and Ethiopia would make this corridor very vibrant.
Kisumu–Eldoret would make another super economic corridor based on blue economy and rich hinterland. The two towns are already economic centres and would further compete, leading to faster growth.
Another super corridor would be Nakuru–Naivasha. The infrastructure for that is already there. Dual the road and build a major airport in between at Gilgil. The rich agricultural land in Nyandarua would be drawn in and its coloured history centered on the Happy Valley. The lakes and national parks such as Nakuru would make tourism a major economic activity.
The final corridor would be Nyeri-Nanyuki, on the leeward side of the Mount Kenya to counterbalance the Embu-Meru corridor.
INTERNATIONAL DIMENSION
Later the super corridors would get an international dimension. Thika-Nairobi would later join Arusha. Kisumu-Eldoret would be linked to Jinja. Moyale-Mandera would be linked to Kismayu or Addis Ababa. Lodwar-Kitale would be linked to Juba and Southern Ethiopia. Mombasa-Malindi would link to Tanga or Kismayu. Remember China's one belt-one road project?
The super corridors, apart from catalysing economic growth, have another advantage; they will break the barriers that keep counties part. They could succeed where regional development authorities failed. They will create economies of scale in development projects.