Changing by-laws in leafy suburbs will turn them into vertical ghettos
BUSINESS
By X.N. Iraki | Jan 28th 2018 | 5 min read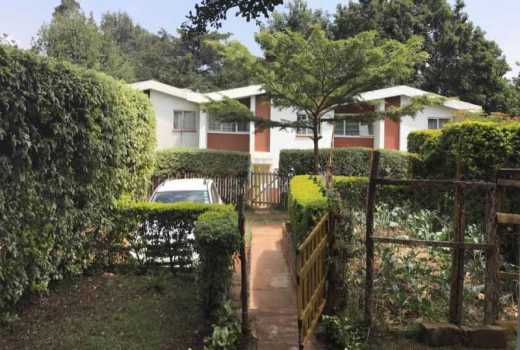 About three decades ago, I came to Nairobi as an innocent school boy, raw from the countryside. Like many other Kenyans, I never left after school; I became part of the mosaic of Kenyans that call Nairobi their home.
I must however, confess that my heart and accent never left the countryside. I miss wide open spaces, the hills and the valleys, the trees swaying in the wind, the cattle chewing the cud, the birds that sing in the morning and the endless smiles from my neighbours.
I recall the signboard near Uthiru written in bold letters, "Welcome to Nairobi, the green city in the sun." The last time I checked, the signboard was not there. I met Kenyans from all corners of the republic in my school. We lived harmoniously and the issue of tribalism never cropped up.
Some classmates dropped out in form 2 to take up jobs! Surprisingly, Upper Kabete where I schooled has changed little, except some flats that have come up next to Kabete National Polytechnic, which was then Kabete Technical School, my alma mater.
We were free most weekends and we walked around to keep ourselves busy, still fascinated by the city. We would walk to Sarit centre and back, to Kawangare and back, to Lower Kabete and back.
We leveraged on our countryside upbringing where walking long distances was normal. I used to walk 8km each day to school and back. Truthfully, we had no money for matatus. Luckily, that gave us a chance to see Nairobi from the ground. It was really green. Flats were rare.
We feared boys from the city, jamaa wa mtaa. They looked sophisticated, talked Sheng and were informed of the latest happenings from food to dancing styles. My city friends were great break dancers, rotating on their head or passing "the wave" in class. They moonwalked like Michael Jackson who was at the apogee of his music career.
Out danced, I took refuge in books. The city had more surprises. My first encounter with spaghetti during a school party ended in a disaster. The food looked like worms.
After Upper Kabete, I went "higher" to Kikuyu, less urbanised but colder. For once, I realised why parents do anything to take their kids to good schools.
Alliance was more about inspiration than books. We met men and women who inspired us for higher ideas, from Dr Robert Ouko to Mutizo Menezes and to others. But this school made me more aware of socio-economic divide in the country. More about that later.
Enough digression. Why should we spare the leafy suburbs?
OUR OWN MORTALITY
The flora and fauna make the city more beautiful. Just drive through one of the leafy suburbs and admire the different species of trees or flowers. Admire the monkeys swaying on trees or stealing food from your kitchen. If you live there, you will be woken up by birds singing in the morning. The rivers and their water sustain life.
The flora and fauna make the city more livable. Trees serve as carbon sinks, cleaning the air and making us healthier. The livability is accentuated by privacy, where you can pursue your interests alone, away from prickly eyes of the public.
The life in flora and fauna remind us of our own mortality, the reason flowers are planted on our graves and are carried by bride and bridegroom. We see trees flower, change colour, shed leaves as seasons change. We remember our lives are like that too. That perhaps adds the sense of urgency to take care of this planet.
All these sentimentalities are subdued by economic profits derived from replacing open spaces or forests with houses or apartments and the rent derived or profits from speculation. The rise in population and the finite nature of land means that prices will keep going up. The prices are buoyed more by history. There shall always be one Muthaiga, one Spring Valley, one Runda despite imitations in outlying towns.
There is an economic reason why the leafy suburbs should be spared. They are incentive for us to work harder. We long for the day we shall move from Eastlands, Kawangware, Kangemi or less posh estates to the leafy suburbs.
We work long hours to one day live or own property in Nairobi's choicest residences like Peponi Gardens, Thigiri Ridge or Karen. Living in a leafy suburb is often the ultimate prize in life. If we work hard and never live there, our hard work contributes to economic growth.
The aspiration to live in a leafy suburb could be adding a few percentage points to our GDP. In the same you, you aspire to be the CEO and work hard. If you never become the CEO, the whole firm will have benefitted from your contribution.
It is paradoxical that the city leaders from MCAs and others can even contemplate turning leafy suburbs into Githurais, Zimmermans and other crowded estates. Leafy suburbs epitomise good life, living in harmony with nature.
Other great cities in the world have space for nature, London has Hyde Park, NY has central park, Vancouver has Stanley Park and the list can be enriched.
In a planet already stressed by climatic change, we should put all our efforts to spare forests, trees and rivers. That is one way to honour Wangari Maathai beyond renaming Forest Road. Changing the zoning or by-laws to allow high rise flats in the leafy suburbs, will easily turn them into vertical ghettos.
At the beginning, lots of investors will rush in to catch on the attractiveness of the historically affluent places before they become unattractive and the prices start going down because of overcrowding.
NATIONAL PARKS
The argument that one should do what he wants with his land is not enough, we are all heirs to this planet and its finite resources including leafy suburbs.
Finally, there are historical reasons for sparing leafy suburbs; they hide some of the oldest houses in Kenya with immense historical value. They should be declared protected areas like our national parks. We can make them tourism attractions.
Kenya will not be a poor country forever. Our progeny will one day have time to admire and marvel at special historical zones of the city, long after our feeble bodies have crumbled into dust.