Kenya approves Jambojet's cheap flights to 11 countries in Africa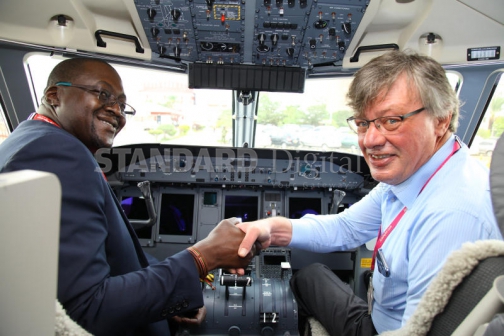 Budget carrier Jambojet has been granted approvals to fly regionally, potentially creating competition on some routes with its parent company Kenya Airways.
Kenya Civil Aviation Authority yesterday published the approval for the new routes that would also include Wajir and Mandera in the north-eastern region of the country. In total, the airline would fly to 25 destinations in 11 countries including South Sudan and the tiny Indian Ocean Island nation, Comoros.
Jambojet's request was granted days after it took delivery of a new aircraft, a Canadian-manufactured Bombardier, raising the fleet size to five. The airline would however need to seek renewal of the licence for the international routes after one year, while the approval for the local routes granted expires in May 2020.
The airline's chief executive Willem Hondius told Weekend Business that his firm is considering operating joint flights on routes that KQ was already flying. "We will not be in competition with KQ," said Mr Hondius adding, "all flight routes and schedules will be agreed upon after consultations." Jambojet is expected to bring new competition to other smaller players, locally and regionally, many having thrived on a pricing advantage.
Rwanda Air and Ethiopian Airlines, for instance, are substantially cheaper to fly on routes to their respective hubs in Kigali and Addis Ababa when compared to KQ. Its low-cost model where extras like meals and luggage are paid for separately from the ticket price could shake up the market, especially for budget travelers.
From Bombardier
It has not been decided when the airline will begin the international routes. "Jambojet will therefore be complementing KQ operations but no date is firmed up yet for the international flights to start," said the chief executive. He had earlier told Reuters news agency that he was considering a long list of routes the airline could operate, rather than the ones the mother company was flying.
KCAA reported that the airline would be using three aircraft types for the flights, including a Boeing 737, the Bombardier and French-manufactured ATR72. The new aircraft was leased from Bombardier in a Sh3.2 billion deal financed by Ilyushin Finance of Russia. Jambojet is expected to acquire a similar aircraft later in the year to ease pressure on the existing fleet, given the number of new destinations.
Illyushin Finance confirmed late last month that it had "successfully concluded a leasing agreement with Jambojet Limited of Kenya for both aircraft". Alexander Rubtsov, Director General of the financier said at the time that the leasing agreement with Jambojet was a key development for his business.
"The demand for high-performance turboprops, such as the Q400, continues to expand and we are pleased to enter into this new lease with Jambojet," Rubtsov said. Prior to the last week delivery of the first of the two Q400 model of the Bombardier aircraft, Jambojet depended on three aircraft it fully had control over. The fourth one was chartered from a private operator.
This left it highly exposed, especially during festive seasons and denied it the critical control it needed on fixing prices, a crucial element for budget airlines. In an ironical turn of fortunes, the delivery of the new aircrafts comes at a time when its parent company, KQ has been stuck in turbulence for the past two years, and had to dispose of or lease out at least nine aircraft to keep it afloat.