Jambojet partners with Tria Group, to advertise during flights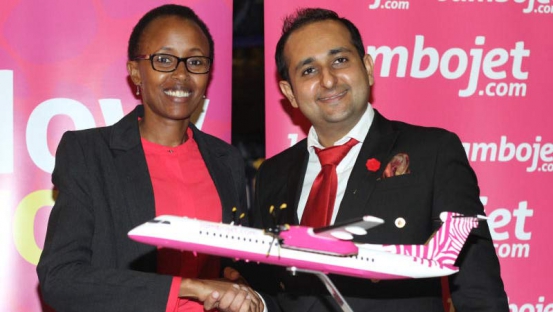 Advertising firm Tria Group has signed a partnership with low-cost airline Jambojet on in-flight ads.
The deal targets the flying audience with disposable income. "Majority of the travellers earn an income of up to Sh100,000, while those on business travel earn an income of between Sh300,000 and Sh400,000," said Tria Group founder and chief executive Trushar Khetia. The partnership was unveiled during an airplane-themed event on Friday.
Flyers, who Jambojet refers to as Jambojetters, will be exposed to a wide array of in-flight media, with advertising on the hot beverage cups, napkins, luggage compartments, menu cards, table-trays and headrest covers. The advertising will also extend to the boarding pass and will include experiential media such as sampling promotions in-flight.
"In-flight advertising has great advantages. You have a captive audience for between 50 to 90 minutes," said Jambojet Head of Sales and Marketing Judy Waruiru. The airline flies an average of 9,000 passengers per month per flight to seven destinations in Kenya. It operates a fleet of four aircraft and carries 600,000 passengers annually.
"We are proud to say that together with Jambojet, we are the first in Kenya with to do something like this," said Khetia. He termed the partnership as Tria's biggest achievements since its launch four years ago.
Tria's Out of Home advertising model specifically targets captive audiences, such as people in public buses, waiting at bus stops, shopping in malls and in supermarkets. "It is a 360-degree media approach. The consumer journey starts from transit to mall media to experiential media (like sampling) to retail media," said the CEO.
"One of the main advantages of this form of advertising is that the number of people reached can be quantified. For example, in mall media we are able to give you the exact number of cars that have gotten into the mall premises, number of people and eyeballs that the advert has been exposed to," he said.
A survey done by IPSOS showed that total journey time in transit for Kenyans is 82 minutes on average on weekdays and one hour on weekends, while the total number of hours spent out of home is close to 11. Buses average 12 trips per day, 207km per bus and carry an average of 506 passengers per bus per day, according to the survey. [Jacqueline Mahugu]