Market regulator banks on small investors to lift bourse fortunes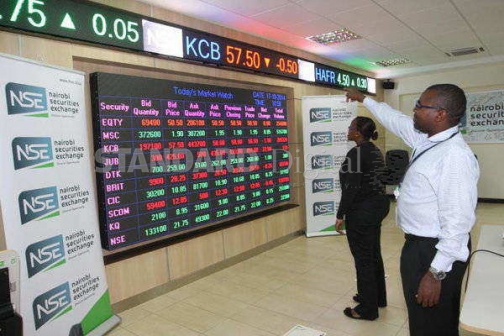 Focus is shifting to small businesses in efforts to save the dwindling fortunes of the Nairobi bourse as the Capital Markets Authority announces a drive to list more firms.
CMA says it will launch a Business Incubator and Accelerator on the Listing Experience event in March to increase listed firms in the Growth Enterprise Market Segment (GEMS).
CMA Chief Executive Paul Muthaura said the major challenge facing the Nairobi Securities Exchange (NSE) is the relatively few listings and the need to increase listings to create deep and more liquid capital markets.
"The incubator and accelerator experience is intended to give interested companies a realistic and practical feel of the listing process. Interested firms will have an opportunity to participate in a structured engagement with the CMA, NSE, nominated advisers (NOMADS), transaction advisers, lawyers, auditors, stockbrokers and investment banks, among other service providers, to allow for confidential B2B (business-to-business) discussions on their readiness for listing,'' Mr Muthaura said.
The NSE is on the lean, suffering its worst losses since 2010 after the bench mark index sank to 2,932.79 points on Wednesday at a market capitalisation of Sh1.7 trillion (stock price and multiplying it by the total number of shares outstanding).
By sinking below the psychological 3,000 points, it surpassed levels last seen in 2010, with only four stocks commanding activities on the bourse.
Abandoning the bourse
Stock prices have extended their free fall in price condemning the bourse to the worst performer in the world. According to Bloomberg news data, the tumble has sent valuations of the 64 stocks combined to their weakest level ever in eight years.
Although low valuations offer an opportunity to buy shares before they swing back, local investors have shunned the market preferring government paper while abandoning the bourse to foreigners. On Wednesday, nine out of ten participants at the Nairobi bourse were foreigner.
NSE Chief Executive Officer Geoffrey Odundo said that due to the volatility in the markets, most pension schemes over the past two years have lost value in their equity holdings so they want to play a bit safer.
Firms like AIB Capital, NIC Capital and Alpha Africa assets soaked in losses while the giant player by asset base, Renaissance Capital, saw 86 per cent decline in profits. Stanbic Financial Services had its returns declined by 98 per cent.
"The trend in foreign investor activity has accelerated, rising even higher after hitting a record of 70 per cent in 2016. The NSE 20 Share Index has fallen eight per cent Year To Date (YTD), and plummeted over 40 per cent in the last two years. Local institutions have largely shied away from the market despite attractive valuations compared to previous years," Standard Investment Bank said.
This leaves the country at a prickly position heavily dependent on foreigners who can up and go leaving the exchange on its knees.
The capping of bank interest rates which has become a red herring for the 11 listed banks which make a bulk of trading, foreign investor exits may be imminent.
Bloomberg news quoted Charles Robertson, the chief economist at Renaissance Capital Ltd, pointed out that Egypt has become increasingly attractive to investors after surging 62 per cent in three months since the devaluation of its pound.
CMA knows that there is need to boost local participation in the capital market and SMEs usually attract more local investors than foreigners and can save the bourse.
Accelerate growth
However, NSE has not been all too successful in recruiting the SMEs into the Gems market with less restrictive requirements for listing.
The Gems section was expected to list 19 firms by 2017 and 39 listings by 2023 has only attracted five firms since it was launched in 2013.
Last year, only one firm, K-Shoe subscribed to the market joining HomeAfrica, Kurwitu Ventures, Flame Tree Group and Atlas Development in the segment.
To live up to their target of listing 3-4 companies annually, Muthaura said in March, they will engage firms to know their business plans.
"We will also work with business incubators to accelerate the growth of firms that are not ready to list but have promising prospects," Mr Muthaura said.
Kenya Railways to operate express trains on SGR
The firm has also announced it will operate express trains to be known as intercity trains between Nairobi and Mombasa, with the journey between the two cities expected to take four hours.