Your CV is wrong; this is what really matters to recruiters
BUSINESS
By Mirror | January 15th 2016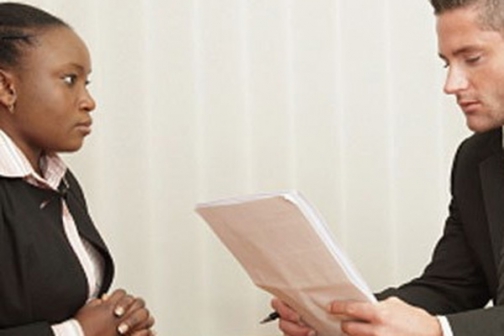 What do you put on your CV and where do you put it? Because it turns out what most people think is important is really rather different from what the people doing the recruiting actually care about.
New figures show that recruiters really don't pay much attention to experience gained working abroad or volunteering, while other common advice – such as keeping your CV under 2 pages and whether you put education in front of experience – is similarly disregarded.
Worse are things that actively weaken a CV, but people believe help them – such as staying at a job for more than 10 years or including a photo of yourself – a study by professional recruitment consultants Michael Page found.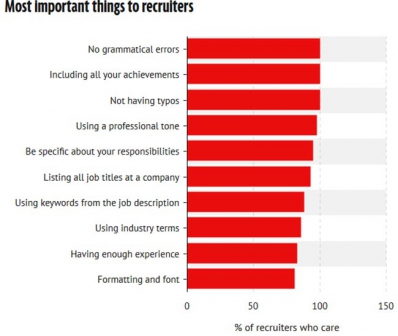 The results from recruiters are sharply at odds with what applicants believe are the most important things.
For example, 72% of Brits think it's important to include a personal interest section in their CV, something only 41% of recruitment consultants agree with.
Job applicants are also far more likely to think soft skills like the ability to work well in a team, having experience of working abroad and volunteering experience are important – whereas recruiters value this far less.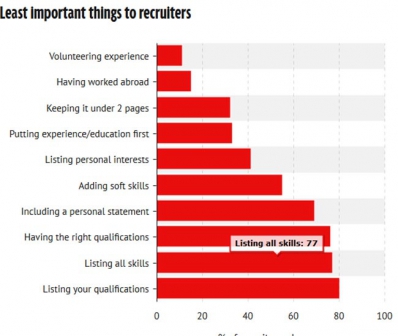 Getting your job hunt right
"When you're applying for a new job it's really important to remember that potential employers will make assumptions about you as a person at every stage of the application, not just the interview," saod Joe Wiggins, career and workplace expert from Glassdoor told Mirror Money .
"When employers review your initial application, the only thing they have to make a judgement as to whether or not they should meet with you is your CV and covering letter.
"If any of your application documents contain typos or bad grammar this could be an immediate deal breaker.
"Always put yourself in the shoes of the recipient; make sure the letter is tailored to the organisation you are approaching and most importantly; relay the most important information up front - in the quickest way possible. Time is of the essence and first impressions really do count when it comes to job market."
Once your CV is in order, using the above rules to find out what does and doesn't matter, you need to work out what you're worth - a site like Adzuna will let you find out what people with a similar background to you have been offered recently. You can upload your CV here .
Once you know what you're worth and are ready to start applying, sites like Monster , Reed , Fish4Jobs , Jobsite and Careerbuilder - as well as Glassdoor and Adzuna - will let you hunt for vacancies.
Don't forget more traditional places - like local papers - either, as many interesting companies still recruit that way.
Although it might be worth pointing out you're better off doing this from home, or at least using personal email accounts, than at work.
Once you've found something that looks interesting, make sure you research the company to find out what conditions are actually like there before you apply - again, job sites like Glassdoor will let you get see what current and past employees think of actually working there.
After that, it's time to start sending out applications. It's a good idea to tailor your CV and cover letter to each job you apply to, making sure they're relevant to the specific vacancy.
Then wait to see if you get an interview (and don't be afraid to follow up if you haven't heard back).