KenGen to boost wind energy generation as it turns focus on renewable sources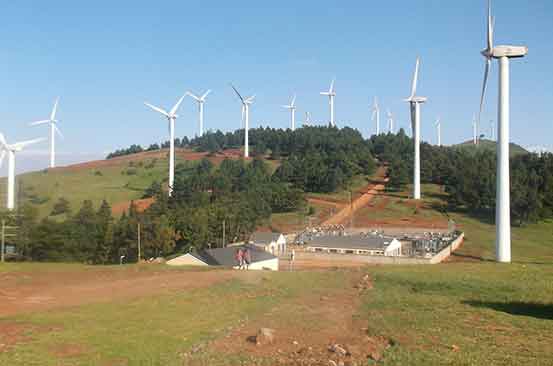 NAIROBI, KENYA: KenGen is planning to boost the contribution of wind energy to the national grid from the current 2.5 per cent to 10 per cent as it steps up investments in environment friendly renewable energy.
KenGen Managing Director and CEO, Eng. Albert Mugo, said that additional contribution from wind energy would add impetus to the Government's 5000MW plus initiative to expand power generation and access.
"Kenya has a lot of potential in wind energy owing to the good wind regime in various parts of the country. Very soon we will be able to boost our installed capacity in wind to meet the rising power demand," said Eng. Mugo.
The power generator is already implementing the first phase of a wind plant in Meru, which will be expected to inject a further 100MW into the national grid.
Eng. Mugo was speaking after conducting the Belgian Secretary of State for Foreign Trade, Pieter de Crem, on a tour of the Ngong Wind Farm in Ngong Hills.
Pieter de Crem lauded KenGen for investing heavily in renewable energy.
"I am here to see the extent to which the two governments have been working together on the development of renewable energy and I am very impressed with what I have seen here today. What's most outstanding is that all this is green and renewable energy. Wind energy is both stable and sustainable," he said.
He was accompanied by Belgian Ambassador to Kenya, Ms. Roxane de Bilderling.
Part of the 25MW wind farm is funded by the Belgian government, which is seeking further opportunities to invest in the country's renewable energy sector.
Eng. Mugo said the contribution of wind to the national grid currently stands at about 2 per cent but this will soon go up as the national electricity generator scales up renewable energy development.
The power generator is also focusing on increased geothermal generation, which has helped to significantly reduce the dependence on hydro generation which is vulnerable to weather conditions. The company's installed capacity stands at 1,595MW.
"With renewable energy, especially wind and geothermal being at the core of our strategy, KenGen is helping the nation achieve a transformation by increasing the quantity of power, reducing the cost of electricity and ensuring regular supply," said Eng. Mugo.
Eng Mugo added that KenGen will also consider investing in solar in the future to supplement wind energy once the cost of equipment and storage comes down. He disclosed that a feasibility study conducted three years ago revealed solar is not attractive due to costs involved but expressed hope that with the downward trend currently being witnessed in the cost of equipment it will offer opportunities for power generation.