Conference exposes widespread ethnic biases in Kenya
By Kenfrey Kiberenge
The magnitude of how deeply divided Kenyans are, played out this week at a diversity conference organised by the National Cohesion and Integration Commission (NCIC).
Interestingly, it all started at the "high table" on Monday, which was the first day of the conference, before trickling down to the plenary of ordinary Kenyans who were in attendance, and who would later be relied upon by the commission to serve as ambassadors in the hunt for the elusive integration.
Organisers had brought in leaders to report from prior meetings held in various regions on why residents felt isolated from other communities.
A participant at the conference contributes during the plenary session of the conference.

After presenters from Nairobi, Western, and Nyanza were done, South Rift and Central followed immediately with Tirop Kitur, a former commissioner with the Kenya National Commission on Human Rights and Grace Wamue, a lecturer at the Kenyatta University as presenters.

Kitur made an exquisite presentation on how two peasants in South Rift – Kalenjins and Kikuyus – are involved in a conflict over land, but which the political elite largely fuels.

But when Dr Wamue made it to the podium, she recounted how together with Kitur they had enquired from one another which region each was representing.

"When I told him Central and he told me South Rift, he said 'nitwathira (we are finished)'," said Dr Wamue, sending the audience into laughter.

Tribal animosity

The first day saw presentations by Prime Minister Raila Odinga, Chief Justice Willy Mutunga and Justice Affairs minister Mutula Kilonzo, among others, who preached cohesion and the need to appreciate diverse ethnic backgrounds.

But as soon as they stepped out and the plenary was opened, a man from the Kalenjin community tore into the Prime Minister accusing him of fanning tribal animosity with his sentiments that the International Criminal Court (ICC) suspects should be arrested and locked up at The Hague.

But in a swift rejoinder, a woman hit back at the man reminding him of how certain ICC suspects chest-thumped before the hearings began and should now stop blaming the PM.

The regional presenters, too, painted a picture of a nation bleeding from negative ethnicity as well as troubling stereotypes that undermine cohesion.

The presenters were making reports from meetings in various regions from August last year, to January, this year. These provided a platform for residents to state their feelings on why Kenya has not achieved cohesion half a century after independence.

Economic marginalization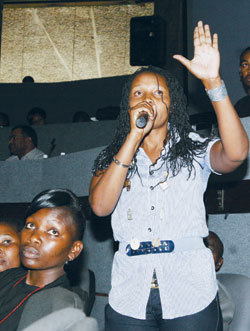 A youth recites a poem promoting cohesion.[PHOTOS: JONAH ONYANGO/MOSES OMUSULA/STANDARD]

Lower Eastern (Ukambani, Meru and Embu) representative Mary Mwiandi, a lecturer at the University of Nairobi, said the issue of 'foreigners' occupying land cropped up, besides youth unemployment.

North Rift representative Ekuru Aukot, a lawyer, said the people felt as outsiders, which was underlined by the line, "How is Kenya?"

He said the Turkana have often been butchered by militia gangs from Ethiopia, yet it took the kidnapping of a French woman for Kenya to send troops to Somalia to fight the Al Shabaab.

North Eastern's Hamara Ibrahim, a sociologist and researcher, said clannism, and delay in issuance of title deeds had hampered cohesion.
Last hope for Ocampo Four
Deputy Prime Minister Uhuru Kenyatta and Eldoret North MP William Ruto began a second round of 'prayer' meetings pending the outcome of their last hope to stop trials at the International Criminal Court.