Keep your pledge to women, says PM
By Lucianne Limo and Ally Jamah
Prime Minister Raila Odinga has asked African Union to honour its pledge and allocate one per cent of its budget to the African Women Fund.
The Prime Minister said the Fund established by the Union will give many states the opportunity to access resources in support of projects ran by grassroots women.
He said although women have made significant gains, high maternal deaths remain a concern, noting that pregnancy and childbirth were still claiming thousands of lives in Africa.
"Ideally, bringing forth a fresh new life should be the happiest moment in a human being's life, yet for African women it is largely a curse and a trap," he said.
The PM urged governments to prioritise maternal health care to reduce maternal deaths.
Adequate resources
"Women die because our political systems have not put enough focus on their health by providing adequate resources," he added.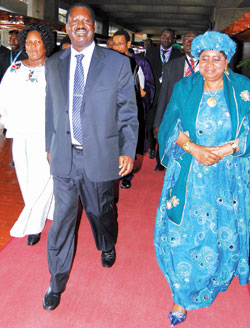 Prime Minister Raila Odinga, Gender Minister Naomi Shaban (left) and Gambia's Vice-President Isatou Saidy during the African Women's Decade conference, in Nairobi on Thursday. [PHOTO: MOSES OMUSULA]

He was addressing woman attending the launch of the African Women's Decade at the Kenyatta International Conference Centre in Nairobi.

Raila said men and women should be treated equally in all spheres of life.

"Africa must be weaned off the male dominance syndrome. Women and men should be equal and all property in the family should be shared equally," he said.

The PM urged women to take advantage of the conference to review their past progress and future prospects.

"It is time to act and consolidate the gains made so far by the African woman and intensify efforts to reach the global and regional targets for gender equality," said Raila.

30 per cent representation

Some of the gains made by women, the PM said, include 30 per cent representation of women in Parliament, election of first African woman President in Liberia, winning the Nobel Peace Prize by Prof Wangari Maathai as well as gains in laws on violence against women.

He said the new Constitution would advance the rights of women.

Marakwet East MP, Jebii Kilimo, asked women holding top positions to propagate women's agenda.

"Women in decision making must articulate, challenge and seek to influence the social, political and economic environment for the benefit of the people," she said.

Ms Kilimo, who is also the chairperson of the Kenya Women Parliamentarians, said African Government's should address gender imbalance in decision making, which she noted, lacks political support.

Meanwhile, President Kibaki will today officially launch African Women's Decade 2010-2020 at KICC.
Want to buy a child? Bring Sh12,000
"It's just a matter of survival: food, shelter and clothing," those were the words of a teenager arrested in Nakuru as she attempted to sell her one-month-old baby. Risper Kimuma, 19, said the baby was an extra burden that she decided to dispose of at Sh12,000.