Police arrest bank managers over Sh80m theft
By Cyrus Ombati
Four Co-operative Bank of Kenya managers have been arrested over Friday's Sh80 million theft.
Detectives from Special Crimes Unit are grilling the bank mangers for negligence.
The Standard on Sunday was informed that police are viewing CCTV clips to identify the gang.
On Friday, persons disguised as G4S personnel walked into a Co-operative Bank in the city centre and vanished with Sh80 million. The five men, who included two in police uniforms, seemed to have had prior information that the money was to be collected from Co-operative Bank headquarters and later be fed to various ATMs in Kilimani area.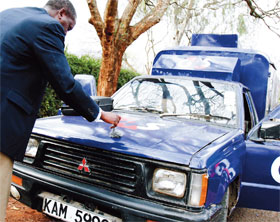 A policeman dusts a van abandoned in Upper Hill, by five men who stole millions of shillings from the Co-operative Bank headquarters, on Saturday. Photo: Evans Habil/Standard

They used a fake van that they had painted with G4S colours to collect the money and later abandoned it in Upper Hill area on Friday afternoon.

Inside the van, they abandoned a cap, a G4S tie and two-iron sheet made boxes, which they used to carry the money.

A man who was guarding a home near the point where the van was abandoned said a police officer armed with a G3 rifle alighted from the vehicle and later opened the bonnet saying it had overheated.

"The officer asked me to get him water to use it in cooling the radiator. When I brought it in a mug he again asked for a rag. When I came back I did not find them and the bonnet was open," said the guard.

The guard said the officer and four other men boarded a cream car that had arrived with a luggage and drove off.

The guard alerted his bosses that a G4S van had been abandoned there.

The bank realised that the money had been stolen when genuine G4S personnel arrived hours later ready to collect the money as planned.

"It seems to be a well planned and executed work. Most likely it is an inside job involving some officials both at the bank and the security group," said a senior officer.

G4S later sent a statement confirming their client had lost the money after fraudsters posing as G4S Cash In Transit (CIT) crew stole a cash consignment worth Sh80 million from Co-operative Bank.

The firm's communications manager Dan Okoth said the gang was driving in a vehicle kitted and branded like the blue G4S CIT vans.