Court restrains Arunga's bid to restrain parents 'interference'
By Judy Ogutu
Former TV personality Esther Arunga has lost an attempt to have her parents and police temporarily stopped from 'interfering with her rights and freedom'.
High Court Judge Lady Justice Jean Gacheche declined to issue the interim orders, saying it was a mother, father and daughter matter. Arunga, whose stories have dominated media headlines, went to court claiming she feared there would arise grave violation of her rights and that she could be detained against her will.
She has sued her father Dr Robert Arunga, her mother Petoline Amollo Arunga and Commissioner of Police. She wants the respondents "restrained from in any way directly or indirectly taking physical control of her unless for a cause certified by the court".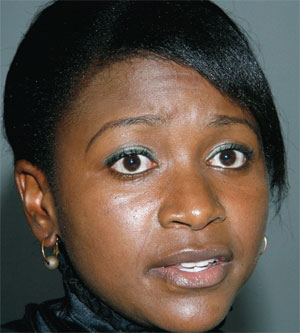 Esther Arunga

In addition, she is seeking for an order permanently restraining her parents and police from interfering with her rights and freedoms in any way except with her express consent, which must be unequivocally given. She is also seeking damages for alleged violations of her rights.

"The first, second and third respondent under Muthaiga and CID headquarters have detained her before against her will," her advocate Edward Oonge said.

Interest at court rates

The judge heard Arunga was arrested on February 21, detained for a day and released to her parents and later taken to a psychiatrist, Dr Frank Njenga at Muthangari, where she was kept for five days. He added that she was released unconditionally and that she feared she might be subjected to the same treatment.

Arunga, who is an advocate, complained she was taken to the psychiatrist yet no such order had been made. It also emerged in court that she was in hiding.

According to the suit papers, Arunga says Dr Njenga informed her she was not mentally ill to warrant his attention, but was acting on her parents' instructions.

On Friday, the judge ordered the papers to be served on her parents and police and fixed a hearing date for April 26

 
School survives on 'goat bank'
When schools witnessed hungry pupils troop out during the prolonged drought, those at a school in Maasai land went about their lessons unperturbed.