Power plant to lower cost of processing tea in Embu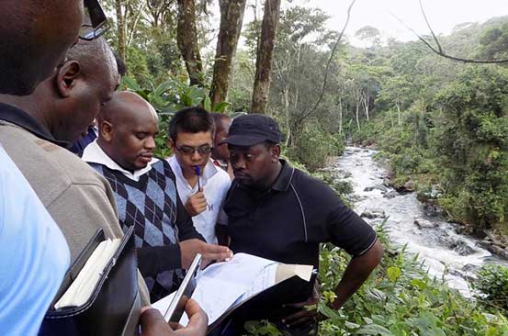 Professionals from firms that have bid to put up 1.8MW hydro-electric power plant in Embu County during a tour JOSEPH MUCHIRI/STANDARD
EMBU, KENYA: The construction of a mini hydro-power electricity plant to serve three tea factories in Embu County is set to start in July and be completed within 18 months.
Kenya Tea Development Agency (KTDA) has prequalified nine bidders out of 21 who had expressed interest for the multi-million contract.
The agency projects to have awarded the contract to one of the firms in July.
The plant is expected to produce 1.8MW of electricity which is enough to run Kathangariri, Rukuriri and Mungania tea factories, and sell the surplus to the national grid in line with an earlier agreement with Ministry of Energy.
The ministry initiated the project and helped the factories find sites to locate intakes of the plant in River Ruvingaci and River Thuci in 2009 in a bid to increase power used in processing tea.
KTDA Zone Six Board member Samuel Ireri said the three factories spent Sh115 million in power bills last year but would be saving most of that money when they produce own electricity.
"Tea farmers own this project and will benefit by improved returns on their crop due to reduced cost of production. We currently spend 30 percent of our income on electricity expenses. The factories will have continuous supply of power with minimal outages," said Ireri.
Speaking when KTDA took the nine bidders to a tour of the site along River Ruvingaci at Rutune, Ireri revealed the farmers will finance 35 percent of the cost of the project while International Finance Corporation would advance a loan to pay the rest.
The loan will have a grace period of 18 months for repayment to start.
Payments will be in instalments as the factories have been paying electricity bills to Kenya Power.
Ireri said the plant will occupy acreage of 14.75 acres, where out of the 35 farmers affected 65 percent have already been compensated while the rest would be paid once various issues are sorted out.
Ireri asked a section of tea farmers who have been opposing the project to back it since it would benefit all.
Members of Tea Producers Association had demanded for a refund of Sh4 per kilogramme of tea that the factories deducted from every farmer to put up the power plant, since construction was taking long to start.
The three factories and KTDA will each own 25 percent of the project.
Witchcraft paraphernalia discovered in granny's house after heavy downpour
In his book Witches Still Live, Theda Kenyon says 'the blackest chapter in the history of Witchcraft lies not in the malevolence of Witches but in the deliberate, gloating cruelty of their prosecutors'. True to his words, an ugly drama unfolded when a witch's tools of trade were unwillingly exposed thanks to heavy downpour.