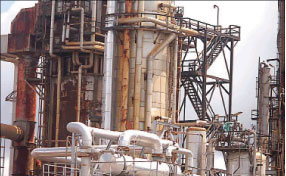 Despite oil marketers and ERC arguing that with the closure of the refinery, oil prices were to dip, six months later prices have, in fact, gone up.
[PHOTO: FILE/STANDARD]
By Macharia Kamau
Nairobi, Kenya: Sometime in April last year, oil marketing companies and some Government agencies lobbied for the closure of the Kenya Petroleum Refineries Limited (KPRL).
The bold decision, they claimed, would see retail prices drop by Sh10 per litre. However, six months after the closure of the facility, consumers continue to pay more for fuel.
This begs the question; who is pocketing the billion shillings saved from direct imports of processed fuel?
Industry players had argued that archaic equipment at the refinery was largely to blame for high fuel prices. At numerous forums, chief executives of oil marketing firms noted that retail prices could come down substantially if the country imported all its petroleum products. This was supposed to be a short-to-medium-term solution as the country sorted out the refinery either through modernisation or building a new one altogether.
Read More
Of interest was one assertion that with the refinery out of the picture, retail prices of petroleum products would be Sh10 cheaper. This meant that prices of diesel and petrol would easily retail at below Sh100. The two products have been retailing above Sh110 (petrol) and Sh105 (diesel).
Huge margins
This was supported by the Energy Regulatory Commission (ERC) that noted that the economy had lost Sh10 billion in the two years between 2010 and 2012.
The energy industry regulator went on to recommend the transformation of the refinery into a storage facility. Due to a combination of factors, the refinery shut down in September last year.
However, six months without the services of KPRL, retail prices of the three petroleum products appear to have remained the same, with occasional dips and rises. The per litre cost of super petrol in August last year – just before KPRL stopped operations – was Sh112.26, which compares to Sh113.61 this month.
The energy sector regulator, however, said there has been a decline in fuel prices over the last six months. And in fact, Kenyans would buy fuel for about Sh120 a litre of super petrol in Nairobihad KPRL remained operational.
An ERC official noted that the decline has been gradual since September last year and current retail prices would reflect an additional Sh8 if the refinery was running.
"If the refinery was in operation today, the retail prices that we have in place would be Sh8 higher… what has happened is that it has actually been declining gradually since August last year," said the official who was not named because he is not authorised to speak to the media.
Consumer Federation of Kenya (Cofek) noted that lack of transparency in the petroleum sub-sector contributes to high prices of fuel.
Cofek Secretary General Stephen Mutoro said even with KPRL inefficiencies out of the way, other factors are still in play that will continue to see prices of petroleum products remain high.
"Regrettably… there will be no significant impact on the consumer pricing because of other more immediate aspects such as poor rationale for fixing huge margins as well as unjustifiably high levels of taxation from multiple agencies," he said.
"The intrigues around Essar and Government partnership was not only doomed to fail but it is indeed a confirmation that lack of transparency and costs of inefficiency and corruption constitutes a major reason why high fuel pricing is likely to persist for a longer period.
"ERC as presently constituted lacks consumer representation as required by the Consumer Protection Act, 2012. This means that anti-consumer regulatory policies are equally to blame for the higher prices with or without a functional KPRL."
Loss of products
The refinery attributed the closure to frustrations from oil marketers who refused to sign product purchase agreements. There was also lack of support from the Government that was not keen on holding to account the marketers despite having a legal requirement in place that required them to lift products from KPRL.
Since then, the facility has not refined any fuel. It was also on the back of these challenges that Essar of India took what it said was a commercial decision to quit the joint venture it has with the Government, which has been running the refinery.
In April last year, ERC wrote to the Ministry of Energy outlining the losses incurred by the economy due to an inefficient refinery. According to the commission, the country was losing close to Sh500 million a month due to loss of products during the refining processes, costs that were passed on to consumers.
"While the motive to protect KPRL was noble, the effect of this policy has been a massive loss to the economy, resulting in higher consumer prices. In the last 28 months ERC has been regulating (fuel) prices, the economy has lost about Sh13.05 billion being the price difference between product sourced from KPRL and product directly imported as refined products," the regulator noted in its April 29, 2013 letter.
"In addition to the above losses, the country has also incurred losses amounting to Sh1.51 billion in form of demurrage over the same period. Demurrage could be saved in a situation where the KPRL facility is converted into a receipt terminal."