Woman's 'light-bulb' moment enables her to cash in big on creativity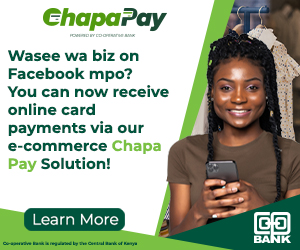 For 30 minutes straight, Mama Bahati just stared into the emptiness of darkness. The dark abyss filled her bedroom like a cloud of smoke. Her alarm clock had rung at 6am, but getting out of bed was now a struggle. I mean, with the current economic times, would you blame her?
The single parent was a receptionist at a law firm, making Sh30,000 a month. Barely enough to cater for her or young Bahati who had just started pre-school. She needed to pay rent, school fees, cater for the household's food, save some money for bus fare, pay her house manager and save for a rainy day.
"It was all too much," she thought to herself. She had binged on countless videos of financial gurus offering "expert advice", spent hours on end listening to podcasts, and reading motivational books, but nothing seemed to be helping. One question kept bugging her mind, however. What was she good at other than her relations with clients at the law firm?
She thought long and hard about it and finally got to her "light-bulb" moment. She sprung out of bed with renewed optimism. Mama Bahati was a good content creator who knew her way around social media pages.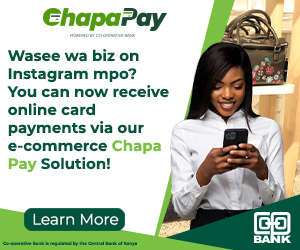 With campaign season in full swing, she knew the opportunities were in full supply from politicians. She had made a few connections with politicians who often thronged the law firm she worked for. Bearing that in mind, she spent the next couple of hours googling her targets, finding their affiliates, likes and dislikes.
She then reached out to seven politicians who fit her target market perfectly. One by one, she presented her ideas, vision and as fate would have it, four out of the seven bought into her plan. This is how Rafiki studios was born. Rafiki Studios helps politicians with image consultancy, photography services, creating content and managing social media platforms.
So impressed were the politicians that they referred Mama Bahati to some of their corporate friends who missed the dotcom train a decade ago. With her business being on an online platform, Mama Bahati accepts online card payments via Chapa Pay, which is free and secure. Chapa Pay is an eCommerce solution by Co-op Bank that allows you to receive online card payments from your customers directly into your Co-op bank account.
She has been doing the business for the last one year now and can comfortably pay her bills. "As little Bahati moves to PP1, it's looking to be a great year ahead and uuuu... sorry it's an SMS confirming payment by one of my favorite clients... As I was saying, this year will be amazing," she says.
She encourages anyone undergoing financial pressure to invest in a business. You can start small and build the customer base as you go. The best businesses are created from something you already love doing.