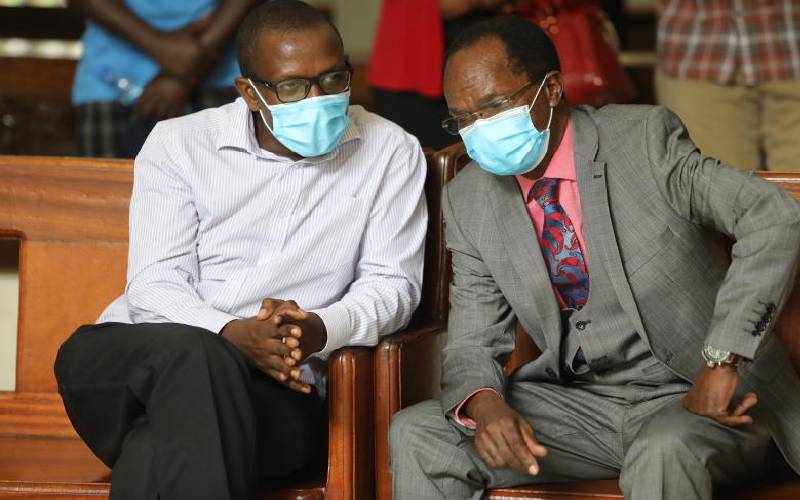 A company linked to a top port official transacted business with the public agency for three years before it was outed from the company system, a Mombasa court was told yesterday.
During the period, Nyali Capital Company, associated with suspended Kenya Ports Authority (KPA) Finance General Manager Patrick Nyoike in court documents, was also given preferential treatment in its dealings with the port, according to KPA's former head of audit Fredrick Oyugi.
Oyugi, who was testifying in a case where Nyoike, his wife Jacinta Wanjiku and others are facing corruption charges relating to Sh215 million, told court that the micro lending firm, would be paid monies it advanced KPA suppliers, sometimes before the actual supplies reached the port.
The witness said the firm's registration as a KPA vendor was never approved by the agency's executive committee made up of seven general managers as required by procedures.
Read More
Oyugi said Nyali Capital Company, a financial institution, could have fallen in the category of special vendors. However, its registration did not follow the laid down KPA procedures.
The witness, who was being led by Senior Assistant Director of Public Prosecution Alloys Kemo, stated Nyali Capital Company was struck off the list of KPA vendors after it emerged it was in the list illegally.
"KPA has elaborate ethics and anti-corruption policies which do not allow its employees to do business with the organization through any company to avoid conflict of interest," said Oyugi.
Oyugi was the second witness in corruption case facing the three respondents before the Mombasa Chief Magistrate Edna Nyaloti. The accused are being represented by lawyers Jared Magolo and William Mogaka.
The accused were released on Sh5 million bond each after denying four graft charges. The crimes are said to have happened between October 2014 and 2017.
Also facing corruption charges are Mr Isaac Obunga, a KPA accountant, Mr Alfred Hinga and Mr Peter Ndichu.
Nyoike and Obunga have denied charges of abuse of office and releasing Sh215 million to Nyali Capital Company illegally.
On Monday, former KPA Managing Director Catherine Wairi told the court she is the one who ordered an audit which later revealed how Nyoike's company was doing business in KPA illegally.
"I ordered an audit after an employee alerted me about deals Nyali Capital Company was doing in the port with KPA vendors," said Wairi.
She said audit revealed illegal business in the port by Nyali Capital. Later, KPA removed the company's name from their system. The trial continues today.