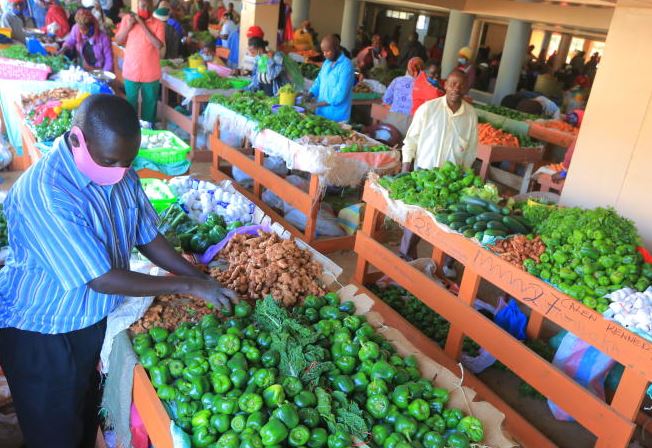 The government has started putting in place measures to ensure hygiene and food supply chain is maintained in market places.
A taskforce appointed by the Transport Cabinet Secretary James Macharia is expected to develop a self-sustaining, self-financing model for Covid-19 compliant market stalls and mobile market models within the next 30 days.
Dubbed "Keep our Markets Open", the committee that is to advise and oversee implementation of measures, aimed at stopping the spread of Covid-19 in market places is to be chaired by Prof Suki Mwendwa.
"The terms of reference of the advisory committee shall be to develop a strategy for keeping our markets open in major urban centres in compliance to public health standards," the CS said.
While preparing its report, the team is expected to solicit, receive and consider views from members of the public and interest groups.
Read More
Operating from the State Department for Housing and Urban Development, Prof Mwendwa and his team are to submit to the CS an interim report after three weeks and a final one at the end of the committee's term.
Others appointed are Francis Muraya, Kingsley Kipury, Charles K'onyango, Prof Izael Silva, Dr Lawrence Esho, Lilian Kieni, Ashley Toywa, Kennedy Mutisya, Joel Gichimu, Roy Otieno, Allex Makalliwa, Mathey Nyamu and Joseph Ayieko.
The closure of most markets in March has taken a beating on the economy, with the Central Bank of Kenya indicating in May that up to 75 per cent small and medium enterprises were at risk of collapsing as at June.
Even with some counties allowing only open air markets to operate as traders adhere to the ministry of Health guidelines, livestock markets along the Kenya-Tanzania and Kenya Somalia borders remain closed.