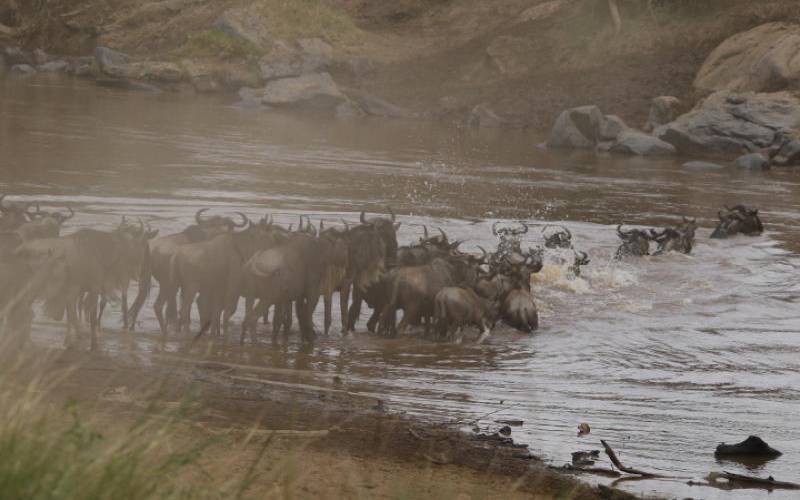 As the annual wildebeest migration kicks off at the Masai Mara Game Reserve, hotels and camps in the area are hoping to host domestic tourists after international flights were suspended due to the Covid-19 pandemic.
For the first time in history, the world-famous animal migration from Serengeti in Tanzania across the Mara river will be an anti-climax, as international tourists who usually make full bookings at the facilities are nowhere to be seen.
John Kalesi, a hotelier, is among those hoping to earn some cash from local tourism amid rising cases of the viral disease locally.
More than 100 hotels in the Mara were closed when Covid-19 was reported in Kenya.
"At times like this every year, our hotel facilities are always fully booked ready for the season, but right now we are down. We are appealing to the government to at least consider giving us the leeway to host local tourists as we will adhere to the measures," said Mr Kalesi.
Financial constraints
He said the facilities are ready to host local tourists in a bid to stay afloat and meet crucial financial commitments, including paying workers' salaries.
The chairman of the Narok chapter of the Kenya National Chamber of Commerce and Industry, David Mbatiany, has asked the government to disburse tourism stimulus funds to support hotels in the reserve.
He also appealed to the county government to allow the hotels to operate during the peak season to enable them to recover from the three-month dry season.
"Many Kenyans are willing to tour the Mara to witness the wildebeest migration with their families and they need hotels. These hotels are ready to comply with the government's Covid-19 regulations," said Mr Mbatiany.
The hospitality industry in Narok, he said, has suffered immensely due to the pandemic and called on the government to ensure the release of the money promised by President Uhuru Kenyatta is expedited.